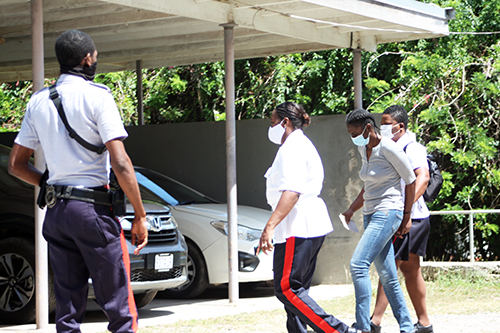 Nadeen Geddes is set to serve a term of twenty years in prison at hard labour for the contract killing of her sister, Tamara Geddes, after sentence was handed down in the Trelawny Circuit Court on Tuesday.
Nadeen Geddes, clad in a grey blouse, blue jeans and a mask, seemed expressionless as presiding Judge Martin Gayle issued the sentence. In order for her to be eligible for parole, she will have to serve 15 years. She was also sentenced to five years at hard labour on the charge of conspiracy to murder in regards to plotting to kill Tenessia Miller, a woman from Carey Park, who is before the courts on charges of killing Geddes' brother, Gregory Geddes, a sentence that will run concurrently with that of the murder.
Her two daughters, 21-year-old Shanice Ruddock and the other, a fifteen year-old minor, were charged jointly with her, but were brought up on the lesser charge of misprision of a felony. This charge stems from the fact that they knew about what their mother did but did not report it to the authorities. However, they were spared prison time and were sentenced to three years' probation.
The judge in his ruling indicated that both of the younger females, in an attempt at rehabilitation, will not have their convictions recorded. They had previously pleaded guilty to the charges at a sitting of the matter on February 8 earlier this year.
However, in the case of the mother, whom he described as showing no remorse, he explained that his ruling was based on the aggravating circumstances of the case. He noted that despite the early guilty plea, it was the nature of the crime which saw a gun being used and the killing taking place in front of a child, which he used in determining the punishment for the capital crime that had caused outrage in the parish and the country as a whole. He also noted that a social enquiry report done was not complementary to her in any way.
Geddes was represented by attorney CJ Mitchell, who upon the conclusion of the case noted that he would have wanted more leniency in the sentencing. "I would have hoped for something lesser on the murder, but the judge felt that aggravating circumstances, included, for example, that it was her sister who was the victim, that the offense was committed at the family home in the presence of children, so that in the circumstances, his lordship felt that a sentence of twenty years was a proper sentence," he remarked outside of the courtroom.
DAUGHTERS SHOWED REMORSE
The judge also indicated that the early guilty pleas made by the two other accused played a key role in the sentencing, relating that they were lessened in this regard. He indicated that both of Geddes' daughters showed remorse and that was also a determining factor. Earlier, their lawyers had made an impassioned plea to the judge indicating that their lives should not be blighted by the actions of their mother and that they were traumatized more than anything else.
Landee Ruddock, father of Shanice, revealed that he was happy that his daughter received the sentence that she got and would be working with her to put her life back on track. "I will help her to back to college, she wants to do medicine and she will live with me," the relieved father informed. He further noted that he felt sorry for his child's mother and he was "hoping for the best" for her.
Tamara was killed in June last year, after a plan was concocted to end her life by her sister and others. It was first deemed to be a robbery attempt gone awry, but crime sleuths managed to determine that it was Nadeen who had conspired to end her sister's life over deep-running family issues.
The case is set to continue as three other co-accused, Brian Shelly, Owen Irving and Tashana Young still remain in custody as they await their day in court. Another defendant, Rexton Knott, was previously found not guilty and released.