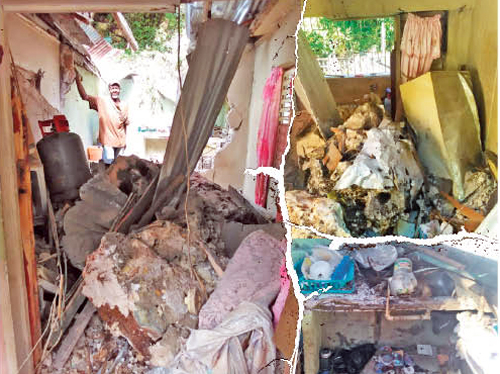 Sashane Shakes
A family living in a valley-like area in the hilly terrains of New Road, Cambridge in St. James, has been left homeless after rocks completely ravaged their dwelling on the morning of Tuesday, October 16.
The six (6)-member family that occupied that two (2)-bedroom home were sent fleeing after boulder-like rocks cascading off the hills shattered their place of residence.
Reports are that on October 16 around 9:30 a.m., three (3) occupants, one a teenager, another a preteen, and an elderly, of the shared abode, were in a room when they heard loud crashing noises in a section of the living room.
Startled, Cleon Nelson, 14 and Leon Nelson, 12, went to investigate, when it was then discovered that boulder-like rocks had crashed into the house. The 14-year-old went back to remove Edward Spencer, 87, but by that time, the stones had blocked the entrance, separating the two (2). An alarm was raised and residents eventually removed the blind Spencer from the house.
The house is located at the base of a hill that recently caught on fire with the blaze put out by members of the community. It is being speculated that the stones which were further atop the hill would have descended, due to heavy rainfall the day before (on Monday), demolishing the house.
Teacher at the Maldon Primary and an occupant of the house, Nyesta Plummer was at work when she received a phone call informing her that the incident took place. With the entire house destroyed, all 6 members have been moved elsewhere. "We are uncomfortable because we are in a little one-room for the time being. We lost everything," said Plummer.
In the week immediately following the ordeal, two (2) of the three (3) student occupants of the house were prevented from going to school due to necessities relating to such being among the wreckage, however, all are in attendance now.
Bolting into action, Mayor of Montego Bay, Councillor Homer Davis, has visited the community to offer support. Davis and his team have removed the stones from the house and will be venturing into the hills to remove any other loose rocks in order to prevent a recurrence of the unfortunate event.
South St. James Member of Parliament, Derrick Kellier and Welcome Hall Division Councillor, Gregory Wint, have also ventured into the community, did their assessments and have pledged to assist.
"Residents from the community and some officials are lending a helping hand and we appreciate all the help we can get. It's going to take a lot but we're trying to get back on our feet," said a grateful and hopeful Nyesta Plummer.
Persons wishing to assist the family of 6 may do so by contacting Nyesta Plummer at 1 (876) 839-9700.