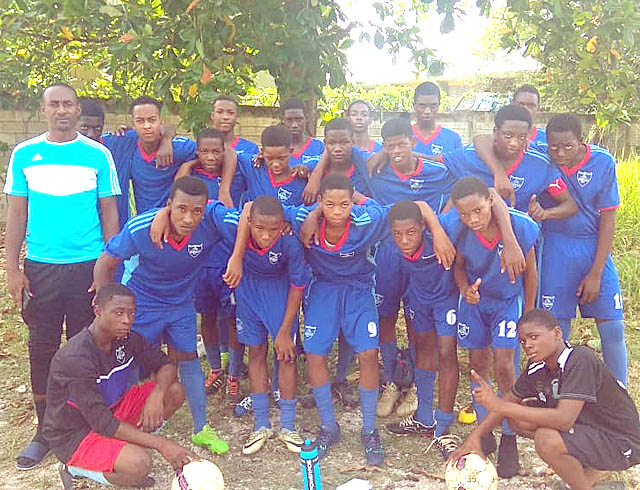 Da Costa Cup Review
By Barrington Flemming
Staff Reporter
Maldon High School, located in South St. James, who are still smart from their poor performance in the preliminary round in Zone A of last season's da'Costa Cup Competition, are now in a rebuilding mode hoping to improve their performance.

The team showed sparks of brilliance in the previous two seasons but failed to fire last season, placing second to last in the competitive Zone A.

Coach Dillon Thelwell, in an interview with Western Mirror said the team was hit with a number of internal issues which saw the falling away of some key players.
"It is a fairly new squad we have because we lost 19 players from last season. We only retained three, so we have been trying to rebuild since April. We have some fresh faces and since we started in April, we have now begun to see things beginning to take shape now."

He explained further that they entered the Under-20 competition as a means of building the team.

"This competition showed us exactly where we are. As we played the games we saw areas that needed to be strengthened and we have been doing that, so we can know what will be the right combinations, being aware that we only have a short time before the da'Costa Cup competition in two-and-a-half weeks' time."

Maldon got their first win in the competition on Wednesday, clipping an under-strength Norwood Strikers, who entered the game with only nine players, 1-0.

Thelwell explained that the coaching staff has drafted a three-year programme which includes the current players.
"So we are not looking for great things this season as we are a young team but come next season, should we retain this core of players, and we expect that we should keep about 90 percent of them, then we should stand a better chance of competing for a place in the Inter-Zone Round," he explained.

Team manager, Fellon Morris, was a bit more upbeat in his assessment of the team's chances this season:
"I think the team is going to do well this season even though it's new. The experience that they have garnered over the summer holiday has actually helped them, and based on how they have been playing against the school teams in the pre-season games, they should give a good account of themselves. So I am looking for better things," Morrison said.

Maldon have been draw in the competitive Zone A which includes the da'Costa Cup's most prolific team in Cornwall College, which has won 12 championships, St. James High, Green Pond, Anchovy High and Irwin High.