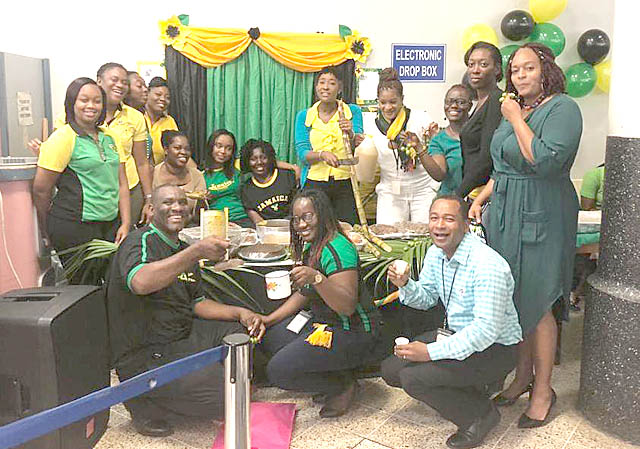 By: Noel Thompson
Contributor
At some point or another, just about everyone has had to visit the Montego Bay Revenue Centre (the Tax Office) and it is every so often frustrating just contemplating the thought of going there for any reason.

But for all the years that the thousands of people have been visiting that location, something awesomely different unfolded there for the first time – an experience that brought about sheer camaraderie among staff and customers on the eve of Emancipation Day, 2019.

The management team, headed by Keeble Downie, the general manager and his staff, staged a welcomed entertainment segment throughout the afternoon with lots of traditional baked products, enough to give each customer a taste of the real Jamaica, as they entered the halls, or while they waited in lines to transact their businesses.

Sumptuous cornmeal and potato puddings, coconut drops, dukunoo, homemade ginger beer, among other delectables, were sprawled on tables draped with colourful satin – green, gold and black, representing the flag.

"We dubbed the event 'A Taste of Jamaica', which is part of our social interactions. The refreshment served by our staff were prepared by staff members from various units of the Montego Bay Revenue Centre," Downie said.

He added that the staging of the event at the revenue centre was their way of celebrating Emancipation and Independence Day activities simultaneously, ahead of the two recently observed public holidays.

OVERWHELMING RESPONSE

"It is the first time we have had an event of this nature at this facility and based on the feedback, both from staff and primarily the customers, it is our hope to stage it annually. The response has been overwhelming," Downie said.

Assistant General Manager, Gerald Linton, was in for lots of commendations for his song selections that were befitting for the entire family – strictly, but clean reggae music, a compilation of Studio One rock steady to the all-time favourite Jamaican festival songs that date back to yesteryear.

"I am just enjoying the moment and the songs I'm playing," Linton jibed as he sipped on a cup of ice cold fiery hot ginger beer.
Just then, his seven-year-old daughter, Gerica interjected, "My daddy's name is spelled with a 'G', not a 'J'", much to the amusement of onlookers.

As the activities simmered down, each staff who had brought their personal piece of Jamaican artifact, walked up to the table to reclaim their belongings.
"Weh mi grater deh?" Alicia Bisasor inquired. "See it yah mi dear, tek it," her supervisor, Suzette Sterling-Samuels replied with a heart-warming smile.

It was just about 5:00 pm, and like all other good things that must come to an end, so too did the activities inside the Montego Bay Revenue Centre… until next year.