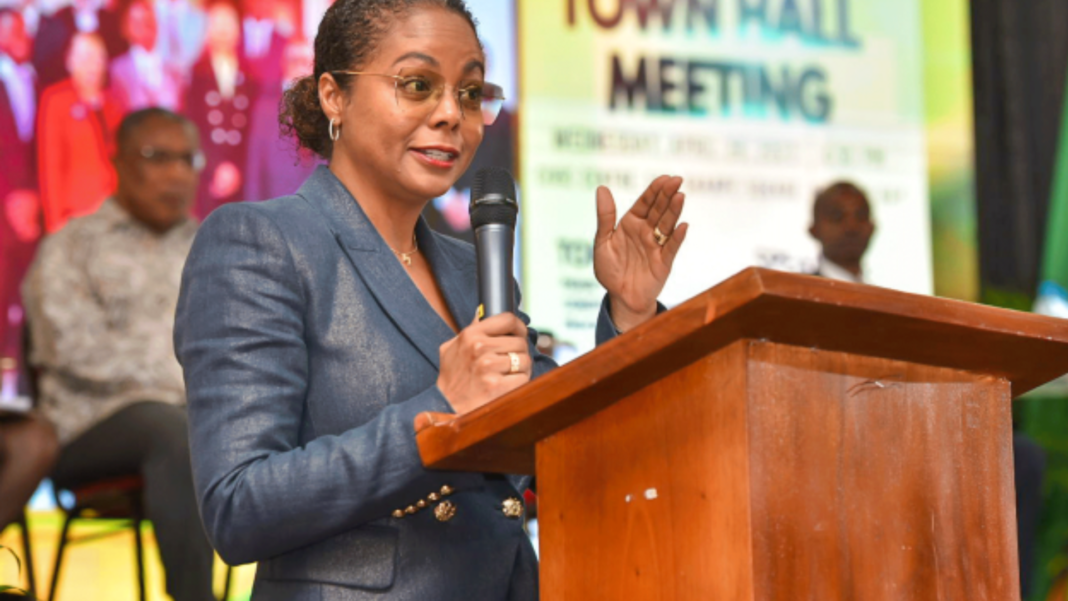 The Constitutional Reform Committee will take the advice from the public into account when reviewing the Constitution. This is the assurance coming from the minister of Constitution and Legal Affairs, Marlene Malahoo Forte.
Speaking at the first Town Hall Meeting of Phase 1 of the Constitutional Reform Process held at the Civic Centre, Sam Sharpe Square in Montego Bay on Wednesday, April 26, Malahoo Forte disclosed that citizens would be heard through focus groups, other town hall meetings, email, and can also WhatsApp at (876) 441-9097.
Minister Malahoo Forte said the process involves "Jamaicanizing the constitution, simply what that means is that we want the constitution to be passed by the parliament of Jamaica (and) approved by the people of Jamaica. Because what we have was not approved by the people of Jamaica, and it didn't come into effect by the parliament of Jamaica, and the parliament is the place where laws are passed."
In addition, she said, "The second thing that we want to do is abolish the monarchy that is in the constitution as our form of government, and we would establish the republic. We would establish a new office; these are the things we are consulting on because there are specific items that the people have to approve."
According to the Minister, these factors include how the public chooses the president, the type of presidency— executive, non-executive, or hybrid—and how much executive power the president is given. This includes whether or not there is still a separate head of state, which is chosen through the electoral process.
Also to be taken into consideration is how long a president should be in office and what powers the President has.
The Minister said although there are issues that people want to have rectified, these issues outlined are guided by the constitution, and as a result, it is being brought to Jamaicans to see how these issues will be changed. Without these changes, other areas in the constitution cannot be changed.
Notwithstanding this, President of the Cornwall Combined Disability Association (CCDA) Andrew East asked why we have taken so long to reform the constitution.
Dr. Nadeen Spence, a member of the Constitutional Reform Committee, believes the reason it has taken so long to start the process of becoming a republic is "that there are a number of things that we liked in the old arrangements and there are a number of things we didn't like. I hope that is this time that all Jamaicans feel it is time to end this relationship with the British monarchy. But unless Jamaican people are ready to do so, we won't get to a point where we truly end it."