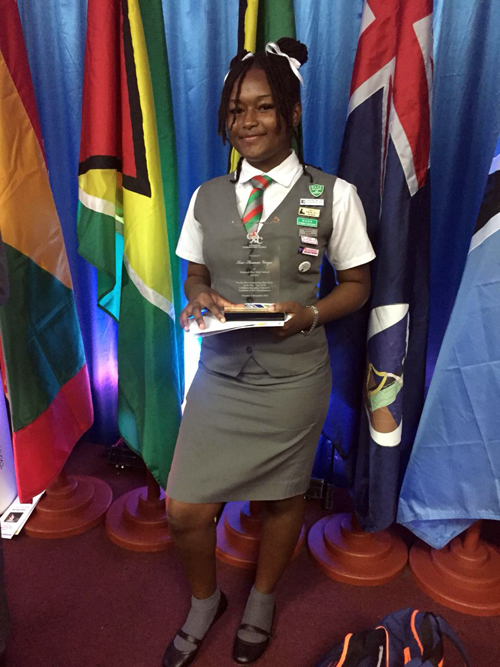 Kae-Shanae Virgo: award-winning writer, entrepreneur
Michael Nattoo – Staff Reporter
Eighteen-year-old Montego Bay High School Sixth Form student, Kae-Shanae Virgo, wants to be a millionaire by age 24. For most 24-year-olds, this is but a pipedream, but for the unusually driven Virgo, it's just another milestone to check off on her collision course with success.
Already, Kae-Shanae is a potent entrepreneur, having already pursued a number of successful business ventures; a scholar of the highest order – already securing a full scholarship to the University of the West Indies, and a classic, yet humble, overachiever, as she was among three Jamaicans to be awarded by the Caribbean Examination Council for the best short story in the May/June 2018 iteration of the regional exam. Safe to say, Virgo is a Superwoman.
NEVER SETTLE
"I want the best for myself always, so even if I'm not consciously aware of it, I'm sort of always bullying myself into doing my best," explained the aspiring journalist and entrepreneur. Of the prestigious regional award she received for her piece, 'Betrayal', Virgo revealed that the constant pressure she places on herself to succeed, made it almost impossible to believe that her writing was good enough to be recognized in such a huge way. "I've always been told that I was good at it [writing], but I guess sometimes, my expectations for myself cause me to doubt my abilities. I felt whatever I wrote wasn't as good as I wanted it to be, so even though I did it, I didn't think it was as great as everyone else thought it was." Not what you'd expect from someone constantly toppling the odds, but we later learnt that for Virgo, this was all part of an unexplainable desire to steer clear of anything mediocre, and of anything that remotely resembled complacency.
This was further made evident when Virgo was asked whether the award served as validation for her abilities. "Yes and no. Yes, because to be selected as the best out of thousands who sat the exam means I'm obviously good at what I do. But no, because even though I won, that didn't ease the pressure that I put on myself when it comes to my writing." Virgo continued: "I'm not satisfied with what others would consider 'good', and I guess that's a personal thing. I don't want to be good, I want to be great, so I'm never satisfied." While grateful for the confidence others show in her skills, Virgo made sure to point out that if she's ultimately not satisfied with her work, even if it is well-intentioned, what others say won't matter much to her.
VICTORY TRAVELS
As with most things, however, there was an exception to Virgo's refusal to buy into anyone else's opinion about her skills, good or bad. That exception came in the form of her teacher, Ms. Simms, who, even before she sat the exam, hammered it into her subconscious that she was going to win the award. "I didn't know about the award, and I didn't care that much to be honest, but once I got in the exam room, it was hard not to hear my teacher's voice in the back of my head telling me I could do it, that I could win the award. So, I just wrote," she explained.
Following the exam, however, Kae-Shanae felt she blew whatever chance she had at being considered for the award. "I hated the story I wrote," she revealed. After her friends left the exam room all talking about their stories, Kae-Shanae refused to talk about hers. She was not proud of her work, and as quickly as she could, she wanted to put the exam behind her.
That was not to be, as not long after, what she regarded as a less-than-deal type of work on her part, proved to be the one thing that would catapult her onto the regional stage, and under the national spotlight. Kae-Shanae's story wowed the examination council. As for her, the news completely knocked the wind out of her. "I just started crying when I heard. I didn't think it would happen. I didn't get time to look over my story, so I was surprised. When I told my teacher, she ran out of the classroom she was teaching and started crying too. I then called my father. I don't know how he reached up my school that quickly, but he did, and I'm pretty sure he told everyone in the world that I won the award." So much for her unusual process of turning self-doubt into motivational energy.
Virgo now has her sights set on the future, and having reaped success last Christmas with her cake-baking business, a partnership between herself and her father, Doyle Virgo, and with her mother, Andrea Hayles, supporting her all the way, the sky is but the floor of Kae-Shanae's seemingly limitless potential. Kae-Shanae will complete her studies in Liberal Studies at the University of the West Indies, and no doubt, that will only signal the beginning of her rise to prominence as one of the brilliant business minds from the West. Winning the Best Short Story in the region was only the beginning of that.