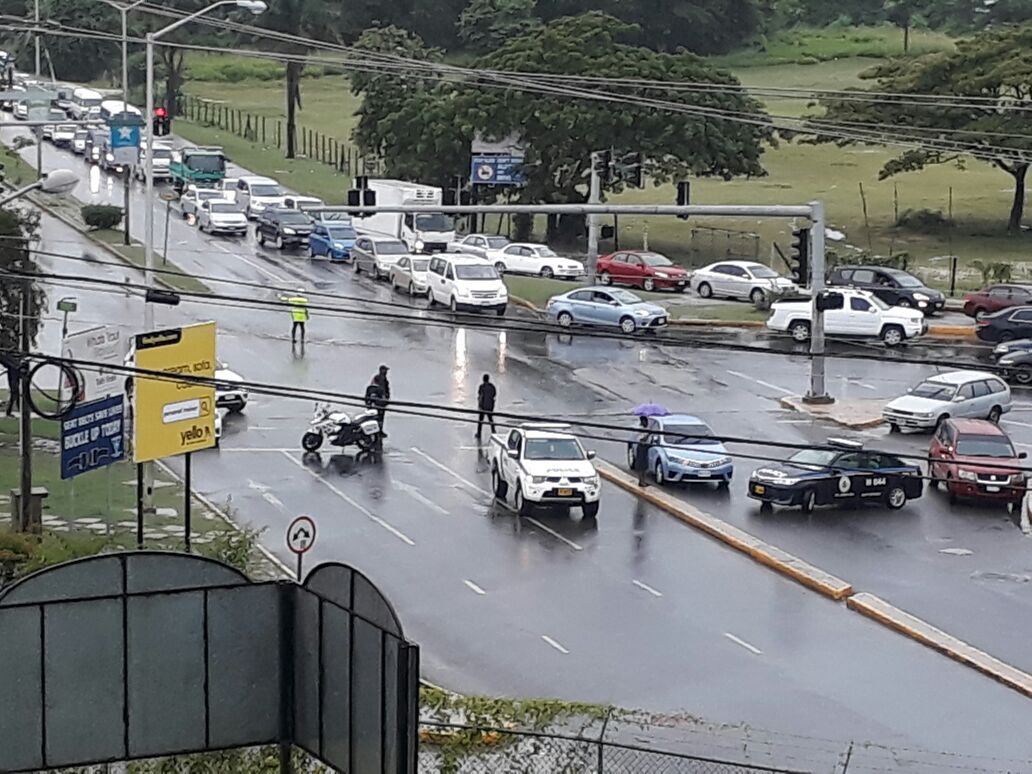 Michael Nattoo – Staff Reporter
Traumatized students, a busy roadway washed with over a hundred spent shells, and crime sleuths at their wits' end, paint the picture of the horror that unfolded last Friday morning along the busy and densely populated Howard Cooke Boulevard and Queens Drive in Montego Bay. Even as people scampered along the highway in reckless abandon, running from the barrage of bullets as they could, one man was unable to escape the slaughter, and became victim #126 in the blood-washed, friendly city.
The deceased has been identified as Elvis Stephen Malcolm, labourer of Canterbury in Montego Bay. Two men have since been arrested in connection with the shooting.
Reports reaching this newsroom are that Malcolm, who had faced the St. James Gun Court on Friday morning, was allegedly being prosecuted for his involvement in a shootout earlier this year. In that incident, he reportedly brandished a Glock pistol after joining a group of men to challenge the police in the community of Albion. He was, however, later caught by the police, but somehow escaped.
He was recaptured, resulting in his trial before the court last Friday – the trial which turned out to be his last.
When Malcolm exited the courtroom on Friday morning and boarded a vehicle along the Howard Cooke Boulevard, en route to Queen's Drive, the movie-like murder scene unfolded.
As Malcolm's car travelled along the roadway, reports revealed that two other motor vehicles, inconspicuously moving along in traffic, sprang into action suddenly. One blocked Malcolm's car from reversing, while the other sped ahead to stop him from going forward, leaving the victim in a stationary position.
The panicked screams of pedestrians, as well as those of drivers who were unaware of what was unfolding, were quickly understood when men alighted from the cars bearing high-powered rifles – M16's and AK-47's. The panic soon turned into chaos as bullets ravaged Malcolm's car, in full view of students a school that was in close proximity, with road users running for cover wherever they could, with even some abandoning their cars.
Although one of the assailants crashed while trying to sandwich the victim's vehicle, that did little to deter them from ensuring that their clips would be emptied at that very spot.
The men's Hollywood-like exploits were soon brought to an end after they were chased by lawmen, who managed to apprehend two of the seemingly remorseless shooters.