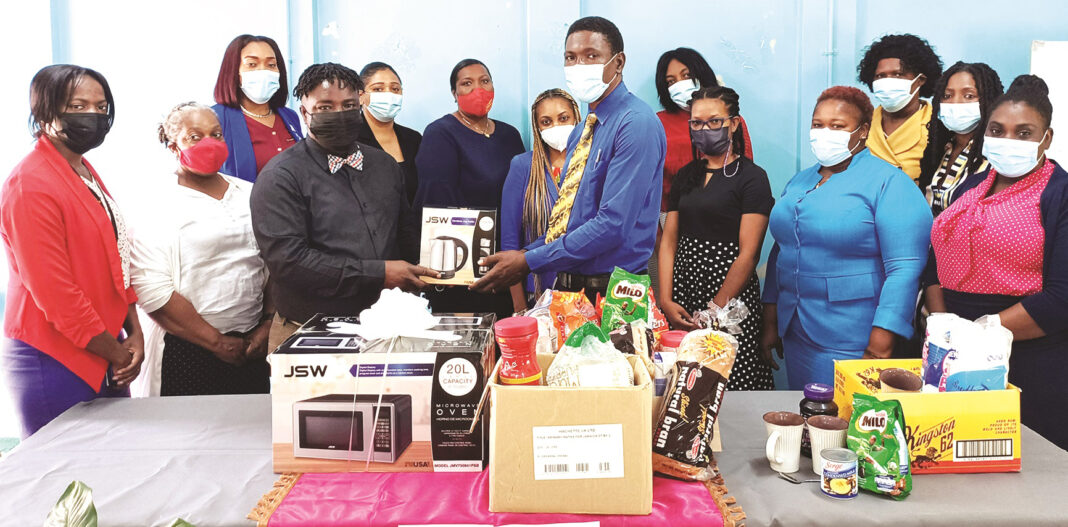 Barrington Flemming –
Staff Reporter
It was a case of promise given, promised kept, as recently appointed Chairman of the Board of Management at the Irwin Primary School in St. James, Dr. Anthony Taylor, delivered on his promise to implement a breakfast programme for the 35 teachers at the institution.

Dr. Taylor and Vice chair of the board, Sophia Fletcher, made a joint donation of appliances and food supplies to include a microwave oven, cordless kettles, cups and $50, 000 to the project.

In giving the rationale for the introduction of the breakfast programme, Dr. Taylor said based on his observation and interaction with the teaching cohort it was necessary to have the programme in place.

"It is not that the teachers would not have what to fix breakfast at home but, sometimes they are constrained by time and so they rush to get to school not having eaten and, having this programme in place would allow them to enjoy a break to have something to strengthen their resolve as they seek to impart knowledge to our students."

Dr. Taylor, speaking about the impact of COVID-19 on students, urged the teachers to look beyond just teaching of Mathematics and English, but to observe their students and to actively craft their lesson plans to effectively engage their children based on the setback in learning occasioned by the strictures of the COVID -19 pandemic.

Dr. Taylor also announced plans for the introduction of incentives for Teachers of the quarter and to also honour hard working ancillary staff who are vital to the institution, with a very special expression being planned for National Teacher's Day.

For his part, Principal of Irwin Primary, Kinsley Bailey, in expressing thanks said it was a privilege and honor for the new board under the chairmanship of Dr. Taylor to bring this level of support to the institution.

"Gratitude is the word as we are grateful for this level of motivation and as a team we will achieve more. Action speaks louder than words and Mr. Chairman has supported his words with action. We must say Dr. Taylor is a man of action and we are indeed happy for the work which he and the board have begun to do here.

Members of the teaching cohort with representative from each grade level expressed thanks with Grade Six teacher Deverline James adding that Dr. Taylor had made a commitment and was exercising emotional intelligence to respond to the needs of the teaching staff in this way.

The teachers indicated that they were overwhelmed with the initial support which has been given by the newly installed Board of Management which has already begun to impact several aspects of school life in a positive way and expressed thanks to Dr. Taylor and Miss Fletcher.