'Momo' regrets 'Bumpa's death
Michael Nattoo – Staff Reporter
At the height of the party, as the crowd clamoured for more, 22-year-old Kadeine 'Momo' Ormsby glanced at her coworker across the room, and was instantly struck with an idea she was sure would have sent the dance floor into a frenzy. "Stand on your head, and I'll jump right through your legs," she whispered to her coworker, the equally excited Roxanne Evans, who also went by the name 'Bumpa'. As the two got set to execute the tricky maneuver – known locally as the 'Chuck Tru', years of dancing together as members of the same dance group – 'Gladiator Girls', made them confident that all would go well.
Tragically, however, that was not to be. Ormsby has yet to figure out where the maneuver went wrong, but, as she recalls of that disastrous night – Thursday, January 23, she failed to complete the jump. Instead, she landed on 'Bumpa', who was positioned on her head with arms folded for support, and they both came crashing to the ground. "When we hit the ground, I was on her back, so I tried lifting her up," Ormsby told the Western Mirror. The former Spanish Town resident further explained that it wasn't instantly clear to her just how serious Evans' injury was, or if she had sustained any injury at all. But that was all cleared up when she realized that Evans was unresponsive.
"When I tried pulling her up at first, she moved her head once, so I didn't think anything much, but then she stopped moving after that. Then people on the dance floor started telling me to let go of her and to put her back down. That's when I realized something was wrong," Ormsby explained. The festive dance atmosphere soon turned to panic, with a number of attendees fanning the downed Evans.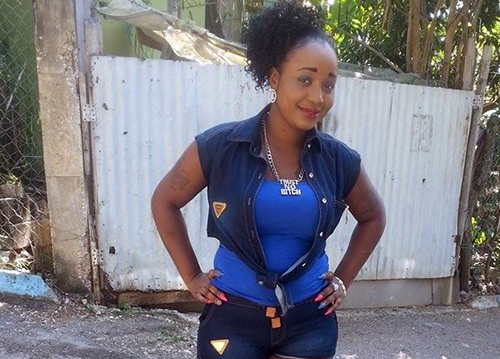 "Her body wasn't moving, and we weren't sure what exactly happened or what to do, so we called the ambulance. When it came, the people from the ambulance took her up and rushed her to the hospital," Ormsby shared, adding that she followed closely behind to the hospital, and was accompanied by a friend of hers.
AT THE HOSPITAL
"When we got to the hospital, we realized that they had put her in a neck brace and brought her to the X-ray room, so we did a wait fi hear exactly what happened," shared Ormsby. While waiting, the young dancer relayed, she was asked to give a statement by police officers that had come to the hospital.
Shortly after, Ormsby learnt from her friend that Evans' injury necessitated her being transferred to the Cornwall Regional Hospital. Following the transfer, Ormsby went home.
"The next day, I got a call from my friend that they were transferring Roxanne back to Falmouth, so I got ready and went there, from like after 12, to late into the evening. Dem seh only family members coulda see her, so I was there, until I went home. I didn't get to see her though," she related.
With her voice breaking, Ormsby explained that she went home that night and prayed for Evans, hoping that she would be okay.
"I would never hurt anyone. Mi nah go dance and hurt none a my coworkers, I would never do that. So I was just praying and praying," she shared.
BAD NEWS
Ormsby's wishes unfortunately went unanswered. The following day, she received a phone call informing her that Roxanne had passed away, leaving her two children and a saddened family behind. "I just cried and cried when I got the news. I really didn't mean for anything to happen to her."
Things got worse. Rumours began to flood social media that Roxanne's death was no accident, but an intentional hit on her life by Ormsby. Ormsby's face was also added to a 'Jamaica's Most Wanted' list online. "How can people say it was intentional and why would they do that? It really was an accident!" a grieving Ormsby related. "Even police officers who saw a video of it said the same thing – that it was an accident. I would never hurt someone like that. I would never hurt my coworker like that. We never had anything, so I don't know why people would even say that."
She issued a plea: "Please, stop bashing me. It was an accident. I didn't mean for it to happen. I just want to say to the family that I'm really sorry for costing Roxanne's life. I'm sorry."
'I WILL NEVER DANCE AGAIN'
In light of what happened, Ormsby was quizzed as to whether or not she will ever go back to dancing. After a long pause, she finally answered: "No. I won't." She was again asked, but her answer remained the same. "I'm sure. I've made up my mind. I won't dance again… not after everything that happened." Despite wanting to go the funeral, a teary-eyed Ormsby is unsure of what to do, particularly given that, according to reports, she has gotten death threats. Even so, she hopes she will be allowed to pay her respects. For now, she's trying to make her way through this.