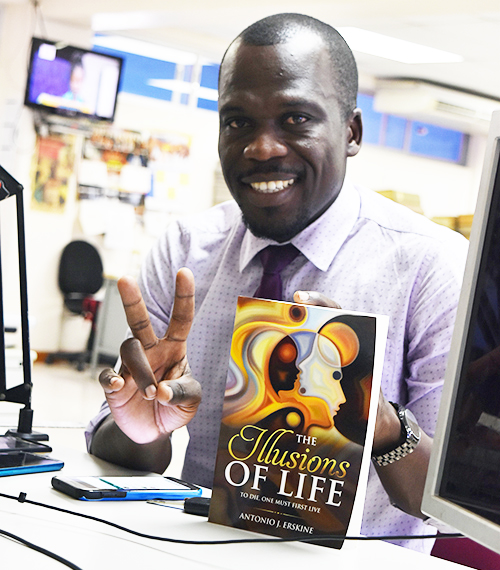 Michael Nattoo – Staff Reporter
Growing up with his grandmother in the usually violence prone community of Salt Spring, Antonio Erskine was sure of two things. One – he would try to chart a different path from that of most boys around him and two – he absolutely detested English Literature, so much so, that when he sat his English Literature exam in Grade 9 at Cornwall College, he merely went into the room, wrote his name, and then left.
Now a few years later, Erskine has a book deal with a London-based publishing company, is currently working on his second to be published, and can't seem to stop writing.
Just how did he get there?
"I was always good at writing. I always did well at that kinda thing; it's a gift, but I never imagined I would be a published author," Erskine shared with the Western Mirror. His first published book, The Illusions of Life, is a collection of 41 poems, none of which he initially intended to have published. Ironically, however, it seems the married father of two and the once hated Literature bug have become inseparable, with that relationship forming the foundation of what is turning out to be a rather successful career as an author and a poet.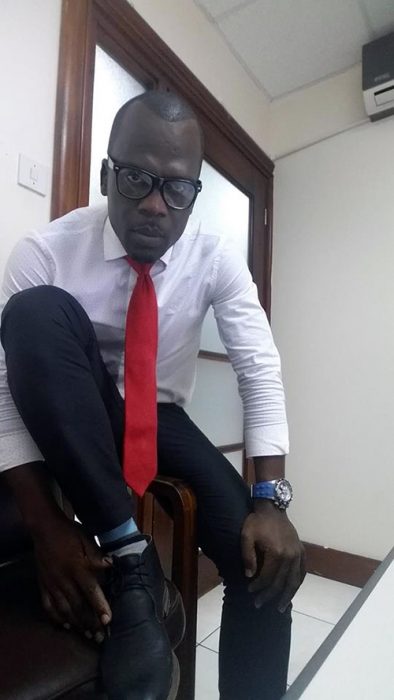 Though never having been on the poetry scene in any meaningful way, Erskine's book has sold over 300 copies in the short time that it has been released, a feat he is reasonably proud of. "When a first-time writer releases a book, it usually takes a while to reach those numbers, so while small, reaching that 300 mark is certainly an exciting thing," Erskine said. He went on to explain that upon his book's release, he did a book signing in West Palm Beach in the US earlier this year, where he sold 40 books. With the coming promotions, he's confident that number will only go up. And that's not bad for someone who first dabbled in poetry back in college in 1998.
HOW IT ALL BEGAN
Then a student at the University of Technology, Erskine shared that the first poem was one that was dedicated to his then girlfriend, now wife, Shereen. "For me, back then poetry was a means of relieving stress. My roommate and I, we would write poems and critique them, and that's when – around 1998-9, I fell in love with the art form, but it never crossed my mind that this is something I could pursue professionally," he explained. But in Florida, on a cold December night in 2017, something shifted in Erskine's perspective on his talent.
"Some friends and I were having poetry night at the house. Now, at poetry night, we would give out a random word and on the spot, you would have to write a poem related to the given words," Erskine shared.
"For each of the words given and for each poem I wrote, my friends all told me that I was really good, and that I should consider publishing.
When I came back to Jamaica the following January, I couldn't stop writing as a result." Erskine, who is also a Minister of Religion, managed to amass 50 poems. And he reached that number by writing at the most odd times – such as when he would be driving to work, or on his way to classes at UTech, as he is now pursuing his MBA (master's degree).
THE WAY FORWARD
After those poems, Erskine revealed how he got to have his work published. "I remember reading a book and thought, 'Why not check out these publishers?', so I sent them the poems and about a week later, they reached out to me and shared that they would like to publish my work. That was a very exciting experience!" Now, his book, which can be found all across London, is doing well, steadily creating a reputation for the Jamaican. Unfortunately, however, Erskine has not had the same level of success here in Jamaica. "It's really difficult trying to get my book into Jamaican stores. Even my publisher tried but to no avail, so we are just focusing on the international scene. It will be much easier to get my work in stores here, once I make a name for myself overseas," Erskine added.
Antonio Erskine is a lover of sports, manages the western office of the Overseas Examinations Commission, and is PTA president at the Corinaldi Avenue Primary School. He pastors a church in Hanover, and oversees another 7. Despite all of that, Antonio Erskine writes poetry first as a human being, and that's why his work resonates with so many people. "I enjoy saying for others what they cannot say for themselves," Erskine shared. "It's all about the emotions people experience." Over almost 300 poems later, Erskine is just getting started, and the world of poetry knows it.