Michael Nattoo – Staff Reporter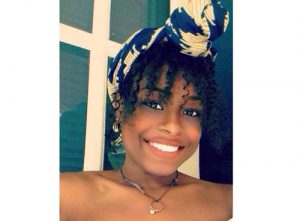 If you've been paying attention over the last couple of weeks, particularly among writing circles, you'd realize that the name Denise Dennis is slowly but surely making the rounds. The former Hampton School student has always known herself to be a writer, and with her second book out, 'Poetic Bulls**t', the first being 'Diary of Indigo Tears', that fact is becoming even more apparent.
It's usually a public relations tool for an author to praise his/her work as being better than the last, but when we had a chance to examine Dennis' most recent book ourselves, we knew her words were far from exaggeration. 'Poetic Bulls**t' is a bold attempt at capturing the author's progression through pain, and the maturity that comes as a result of using that pain to fuel emotional and spiritual healing in the most profound of ways.
In many ways, Dennis revealed to us, 'Poetic Bulls**t' doubles as a form of liberating rebellion, as well as an expression of her unapologetic acceptance of parts of herself that would otherwise be rejected by society.
HONESTY AND INSPIRATION
Just how did the young writer embark upon this journey to find the courage to put such a deeply personal piece of work out there? Robert Pattinson. Well, kinda. She explains, "Five years ago, I was watching a show starring Robert Pattinson where he said: 'Does everything have meaning, or is it just poetic bulls**t?' I chose that title because I felt it conveyed a certain level of realness. I could have chosen something less offensive, but that wouldn't have been an honest reflection of how I was feeling, and that would betray what my poetry would have been about."
The young writer, despite hesitations by some, pressed ahead with that title. She reasoned that if she is doing a project that is founded on honesty and real-life experiences, then there should be no reason why the title of such a project should seek to sugarcoat the often times painful lessons she has had to learn. "I can't allow myself to be scared of what people might think if I chose a particular title. The irony is, however, once you read the book, you'll find that it's not bulls**t, but that it's just raw poetry," Dennis expressed.
FROM TEARS TO RECOVERY
Dennis' last book, Diary of Indigo Tears, came from experiences around relationships, but this project, despite having elements of that, is much different. In this bold collection of poems, Dennis uses her poetry to convey her journey of recovery, and how she matured beyond that place of hurt that served as the foundation for her first book. "I discovered that the whole purpose of life is for us to grow into the best us possible. And when you finally understand how the growing process works, you begin to appreciate and love yourself," she explained. Therein you'll find the true beauty of Dennis' book. It's a crystal clear portrayal of the healing process, and can help others to identify how far along they are in that process, and just how to get to the next step. For example, one of the poems read:
"The bravest act
For a woman in love
Is to walk away from
A man who is not."
This one also happens to be Dennis' favourite from the book, and it's pretty self-explanatory. For those hurting, sometimes it's not as easy to identify the way forward, but having this book and its lessons as a guide can only serve to help you progress, like Dennis did, through the pain.
THROUGH THE PAIN
"I think many of us settle for less just because we are of the belief that that is what we deserve. Many of us stay in toxic relationships only because we are too scared we will lose that feeling and never get it back. Because we are so caught up in how in love we are, we don't realize how not in love the other person is," Dennis explained, further adding that this is where it takes the strength to walk away, and move towards the recovery. That reason, among the others in the book, is why she chose to write this book.
Now fully recovered and aware of her strengths and how she came to find them, Dennis is hoping she may be able to do that for someone out there too. "Nothing breaks me easily anymore," she revealed.
"I hope this book inspires everyone that reads it. I hope it inspires them to be better, to feel free and to be comfortable with themselves. I hope it teaches everyone to heal at their own pace without feeling the need to rush or be sad," Dennis concluded.
The book is five chapters long, was reviewed by Jamaican author Melanie Schwapp and for those who are interested in learning more about it or getting a copy, find Dennis on Instagram at: Ltspapergirl