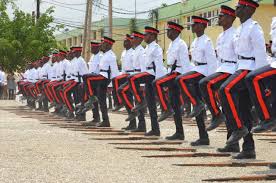 Anthony Barrett – Political Commentator
"If you keep the PNP in power, the truth is that you could lose your life. If you keep the PNP in power and the crime rate continues to rise, the truth is that the next murder victim could be you. It is no joke business, because right now you have a greater chance of being murdered in your own community than being hit by a car, and it shouldn't be that way" – Andrew Holness November 1, 2015
When Mr. Holness so glibly ran his mouth from a political platform in Hanover, he falsely gave the Jamaican electorate the hope that he and his political party (JLP) had the answers to arrest the runaway murder spree the country was undergoing. Now that he and his party are the government, things have gotten worse on the murder front as poverty increases, scammers are being extradited and society seems to be falling apart given the dearth of leadership and direction by the government.
National Security Minister, Robert Montague, seems to be out of his depth. By now we are all aware of his obeah man uncle, his plea that God strengthens his hand and now his frivolous and disrespectful appeal to former Prime Minister, Portia Simpson Miller, asking her to inform the young man from Mandeville that he would like to meet with him on the crime problem.
Further, he went to parliament and told the Jamaican people that if they have information on criminal matters they should put information in an envelope, mark an X on it and drop it in any post office mail slot. This farce has gone on for much too long; Mr. Montague must realize that as Jamaican lives are being snuffed out, to the tune of four per day, the portfolio minister's words on the issue cannot be seen as fodder for humor rather than clarity and leadership.
Prime Minister Andrew Holness should be leading from the front but he is not. Despite the growing numbers of murder, the P.M is silent. His silence is deafening. As opposition leader, he was at many crime scenes across the country. None of those crime scenes were remotely connected to his constituency.
When former Police Commissioner Dr. Carl Williams, resigned, it was stated by the government that the applicants to replace him would have to present a credible and workable crime plan. To date, I have not seen or heard of Commissioner Quallo's plan. From his press conference, I got the impression that the new commissioner does not have a plan but would rely on the established the anti-gang legislation and the special powers provisions included in the Constabulary Force Act to address the murder spike.
IMMEDIATE RESULTS
He went on to state, that the police would also implement containment measures that will target criminal gangs and "mobile armed criminals, as well as disruptive measures that will deny criminals the freedom to carry out their activities". To his credit, he acknowledged that the measures are not entirely new, while stating that Jamaicans can feel confident that they will bear fruit. Mr. Commissioner, your leash is short, however, we will take you at your word but we need immediate results. The dithering must cease, Jamaica, our country is bleeding to death.
After observing successive governments and police commissioners tried and failed to develop a meaningful and comprehensive long term crime plan, to address Jamaica's runaway murder rate, I am convinced that the first step in tackling the murder scourge ought to be a larger police force that is strategically deployed across the country. Ideally, this would require an optimum ratio of 1 law enforcement officer per 451 residents. This is not a number I randomly picked out of thin air; this is a recommendation by a United Kingdom think tank a few years ago.
With an official population of 2,819,000 and a police force of 9,985; if my calculation is correct, Jamaica has 282.41 residents per police officer and that number is seemingly inadequate to keep Jamaica crime and murder free. Jamaica, the Caribbean's fifth most populous country is ranked sixth among the twenty five countries with the highest murder rate in the world. We are more murderous than Colombia, Brazil and South Africa and that is not only disgraceful but extremely scandalous.
INHERENT THREAT
We have to recognize the inherent threat that murder poses to the country's economy, the fragile tourism industry, the national psyche and our international reputation. Something has to give, it is just mid June 2017 and already, we are saddled with a surging murder rate; in fact, we have had more than 630 murders to date which is a 19 percent increase over the corresponding period last year. Despite what the Police High Command might say; we have a demoralized and distrusted police force, a fearful and weary populace which is rapidly becoming inured to the daily shootings, wounding and murders.
The recent uptick in murders is quite frightening and has led many to question the reasons for the increase in double, triple and quadruple murders. Frankly, the murder mayhem cannot be placed solely at the feet of scamming and gang activities as some would want us to believe. The police are quick to blame gangs and lottery scamming; while there is great truth in their assessment, the root cause fueling the country's bloodshed is poverty. Until poverty is tackled in a holistic manner, the senseless murders will continue. Before the advent of lotto scamming in the late 1990s and early 2000s, we were experiencing many gruesome murders. Conveniently, those murders were blamed on the cocaine trade.
While we should be careful of the stated causal factors in the murder upsurge we should acknowledge that yes, the proliferation of guns and deepening poverty, personal disputes among gang members and former friends over the distribution of spoils, particularly from the lotto scam, have led to more brazen shootings and wholesale slaughter.
While I will not support the government policing social media sites, we must also acknowledge the role many of those sites play. In a cyber savvy Jamaica, those personal disputes among estranged former criminal cronies can often times escalate quite quickly through social media sites where gangster and scammers; hiding from the police; vent and diss each other. The end result being some of the carnage we are experiencing.
I am therefore convinced that to curb Jamaica's murder spike, there will have to be greater social intervention, dispute resolution must become more than a catch word, poverty will have to addressed quite meaningfully and importantly, more police officers need to be trained and deployed strategically. The police must become proactive rather than reactive. They cannot continue the policy of transferring man power from one hotspot to another. Peace, calm and security cannot be achieved until each police station and post is fully manned. Such staffing should have the requisite amount of trained investigators and tech savvy personnel, failure to have such staffing in place will be tantamount to rolling boulders uphill. Peace!
moco_barrett1@hotmail.com