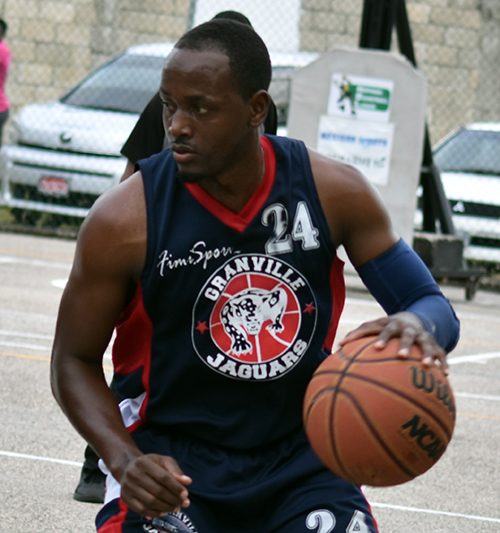 Noelita Lawrence-Ricketts
The name Dave Black is revered in the local sport of Basketball, but who really is the man?
Known for his electric skills on the court, the diminutive player and coach of a dynasty being built at Herbert Morrison Technical High School (HMTHS), located at Bogue in Montego Bay, St. James, hails from humble beginnings, but has eyes for greatness and perfection.
A learner at Maldon Primary and High Schools, Black furthered his studies at Seaford Town Heart Trust, before gaining a spot at the famed GC Foster College of Physical Education and Sports in St. Catherine, spending 4-and-a-half years.
Black, a competitor and one who never knows when he's down, has seen his talent and hard work pay off tremendously over the last two summers, which saw him travelling to the Asian country – China, as part of an exchange programme with Jamaica, at the last of which he was named coach of the female team.
Soft-spoken and a gentle soul off the court where all his competitiveness and fierceness disappears, Black told the Western Mirror in an uncut interview that he and his wife, who he married back in 2016, revealed they had been dating for almost 10-years before they decided to tie the knot in a simple ceremony attended by very close friends and family.
The 34-year-old, who now resides in Bogue Heights, says both he and his wife share a passion for Sports in general, and both love to compete, a passion he says that drives and keeps them together. After all, he says, they met at a track and field meet when he was an assistant coach, while she was there to support her alma mater.
Boastful of his only child, a son, Black divulged that arrival of his (son) into the world, "is one of the greatest things that has ever happened to me".
Black, who is described by his close friends as a giver, motivator and true mentor for youngsters, says being an educator now for some 10 years helped in preparing him well for fatherhood. "Being the type of coach I am, am close to and with my players, am the only father figure in the lives of some of them, so I've been in that role since before my son and it prepared me well and positioned my capabilities, while enhancing certain aspects when my own arrived, almost two years now."
At 5ft 11 inches, Black is feared by his competitors when the ball is in his hand, as he can single-handedly change the outcome of a game. And, despite his competitive character being sometimes misinterpreted by his opponents and competitors, Black revealed he is actually "humble, quiet, calm and a lover of the simple things in life."
The man, who hails from the cool hills of Maroon Town/Vaughansfield, says his greatest desire in life is to build a Sports Academy. "We have talent here in Western Jamaica, lots of talent and I would like to articulate the platform where scholarships can be had," he said.
Black says that it is his life's aspiration to give talented youths a chance at life. "I want to give kids an avenue where they can get a scholarship, not just in basketball, but in any sport," Black noted.
"A lot of people don't know how easy it is get a sports scholarship these days," he further added. There is currently no platform and he would love to become that outlet to showcase those talents overseas.
Black, who said he started coaching at a very young age, 19, says "youngsters should get the opportunity to expose their talents overseas through scholarships, regardless of where they come from or what school they attended".
He says he started coaching at Herbert Morrison Technical High after he was encouraged by then coach at high school, Omar Taylor, now with St. James High to get into coaching. Black said Taylor forced his hand at the move to the job at Compre, assisted by Paul Adams, who sealed the deal with acceptance, age just 19.
PUEY EXPOSED
Q:           Top Motivator
ANS: Mother Veta Cunningham, the strongest
              person I know
Q: Best Friend
ANS: Levar Rose, always puts others needs
before his
Q: Favourite dish
ANS: BBQ Chicken and Rice
Q: Favourite Football Team
ANS: Chelsea
Q: Fav. payer?
ANS: Eden Hazard
Q: Top Basketball Player?
ANS: The late Kobe Bryant
Q: Fav sport movie?
ANS: Glory Road
Q: Fav Movie:
ANS: The Pursuit of Happyness
Q: Fav Television Series
ANS: Dexter