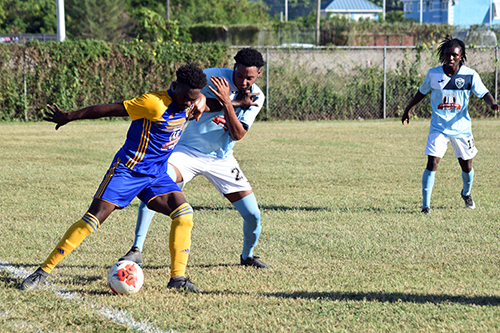 Noelita Lawrence-Ricketts
Two clubs made it two wins from as many games – Montego Bay United carved out a first victory, and Falmouth are still yet to tick three points after the second series of matches in first round action off the JFF Western Zone Charley's JB Rum Super Football League.
Wadadah, last year's beaten finalists and Coopers Pen maintained their perfect start to the campaign with contrasting 3-1 and 1-0 victories over Hopewell and Reno respectively on Saturday and Sunday, December 14 and 15.
Wadadah, behind a double strike from veteran Kemario James in the 41st and 49th minutes, and an outstanding hit on the volley by substitute Remani Pennington on the stroke of full time, just nine minutes after he entered the pitch, steered Wadadah to the come-from-behind win.
Debutants Coopers Pen pulled off another big upset, this time getting the better of demoted Reno, 1-0, with the all-important goal coming from the penalty spot in the 41st minute of the contest. Hugh-George Watson was the scorer.
MBU, Coopers Pen tick win
In the meantime, former Premier League champions Montego Bay United (MBU) and Georges Plain out of Westmoreland collected their first wins of the season, stopping Super Star and Harmony3-0 and 1-0.
Omar Brown, with strikes in each half, found a double for the MBU side, after Nazime Matalie Grant, who opened his season with an exquisite strike, again found the back of the net, opening up the scoring on the stroke of the halftime break.
Georges Plain, the West'land champions, also managed to get their first points of the campaign, recording a narrow 1-0 victory over Harmony, who had won their opening match.
Elsewhere, the match-up between Lilliput Rovers and Sandals South Coast was not played as the home team failed to provide the security needed.
The so-called powerhouse clash between Faulkland and Falmouth failed to materialize at the Elleston Wakeland Centre in Trelawny, with the contentious and fractious affair ending in a scoreless stalemate as scuffles on the pitch dominated.
The goal-mouth action was few and far between, with both teams shy in attack, with more physical plays taking place in and around the centre of the park.
MBU and Faulkland, each with four points, occupy top spot in Zone 'A', while Wadadah and Coopers Pen are the leaders of Zone Two, both having 6 points each.
Super Star and Hopewell are the bottom clubs as five teams remain without a win after two outings.