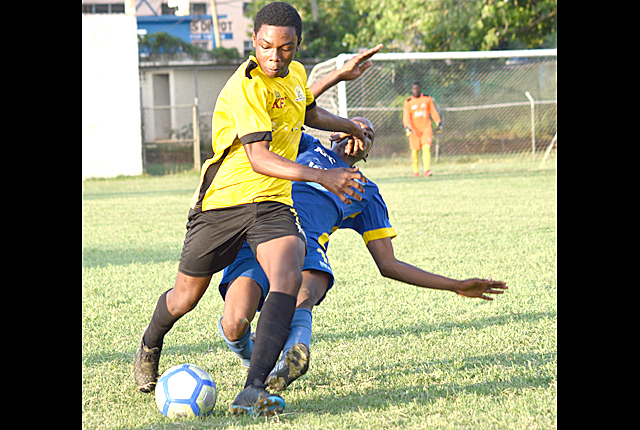 Three western teams and two former champions, are among the six including the defending title holders Clarendon College hoping to put one foot in the semi-finals of the ISSA/WATA da'Costa Cup Schoolboy football Competition when quarterfinal round action resumes, with a full slate of matches in the penultimate series of games.
Cinderella darlings, Anchovy, positioned joint top of Group 1 with three points, the same as the champions Clarendon, face off with Manning's in the all western showdown set to unfold at the Rusea's High School in Hanover.

Anchovy, performing at a high standard and in waters unfamiliar to the team will be gunning for a second win as they look to keep alive their hopes of a historic appearance in the semi finals of the competition.
The team has been on an extravagant run to date and with Hector Wright, former national midfield ace at the helm, they have looked a more organized and composed unit.

Manning's also having their best ever showing in recent seasons, suffered defeat in the first round game and must steal all three points, should they harbor any hopes of advancing any further.

Elsewhere, Cornwall College, last year's finalists and 12 time-championship winners will again be on the road at STETHS for their encounter against Manchester High in a Group 2 match up.
Cornwall won their first game 1-0 and though seeking more goals, would be intent on collecting another three points as they look to remain out-front in the Group and position one foot into the semi-finals.

Frome Technical the 2005 winners who has been in awesome form so far also sitting top in their Group and with a healthy goal average go in search of back to back wins in a clash against Port Antonio at Drax Hall in St. Ann.

Petersfield another of the western sides battling and facing a struggle oppose Dinthill Tech in the 1 p.m. showdown at STETHS.

Cedric Titus, strained and fighting to stave off elimination faces a mounting task at Manchester when they clash with Clarendon College, the reigning champions and a team rounding into form.

Double headers are slatred for STETHS, Drax Hall and Manchester.
By Noelita Lawrence-Ricketts