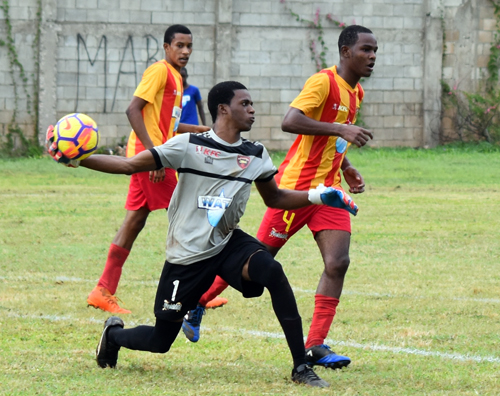 Noelita Lawrence – Staff Reporter
Cornwall College's push for double success in the ISSA schoolboy football competition gathers momentum this Wednesday afternoon, November 21, at the Montego Bay Sports Complex, when they go against Frome Technical in the feature game of the double header of the da'Costa Cup semi-finals.
The contest is a battle of the western teams and will see the twelve-times champions CC, defending an impeccable 14-game undefeated streak in the d'Cup, while hunting their 18th victory of the season as they seek to punch a ticket to the grand final.
Cornwall College seek a berth in the final for the first time since 2016 as they go in search of a 13th title and what would be a second in as many years.
Frome Tech lifted their one and only crown back in 2003 and having made a return to the semis for the first time since that time, they too will be gunning for a solid performance as they look to upset the form books.
Dr. Dean Weatherly, the coach who has overseen many a title-winning teams at the Pleasant Hill-based institution, says today's game will not be a walk in the park for his troops as they take aim at another appearance in a final.
"I'm expecting a very tough game," he told the Western Mirror, "it won't be an easy game, hence we focused all our energies on getting the work done that should help us get over this hurdle. We are mentally and physically prepared for the battle against our Westmoreland counterparts.
Frome are a formidable team with talented players who will be up for the job and they have a player up front who can cause problems, so we are not going to take them lightly…This contest will not be a walk in the park," Coach Weatherly reiterated.
Coach Weatherly also noted that despite the outstanding performances of Aiden Jokomba so far with his 18 goals and captain Shavon McDonald, the team is not of stars but a cohesive unit that can see anyone rising to the occasion, with each player capable of holding their own on any given day.
The bulk of the attacking thrust is again expected to be on goal-machine Jokomba, McDonald, Solano Birch, and the bustling Matthew Thorpe. While Gardener will again laed the backline.
Frome Technical, under Aaron Lawrence, have had a fairly solid season, strolling the rounds unnoticed and despite the stocks heavily placed against them, they are expected to give a good account of themselves.
"They are an attacking bunch and if they should pull off the upset, their front men who were woefully let down by bad misses in their first round knockout game, must come out firing on all cylinders," their coach declared.
The affair gets going at 6 p.m.
The first finalists will be decided at 4 p.m. as last year's beaten finalists, Clarendon College, who had been racing through the preliminary rounds, challenge the in-form Dinthill Technical in a game that should see solid defense against an attacking thrust .