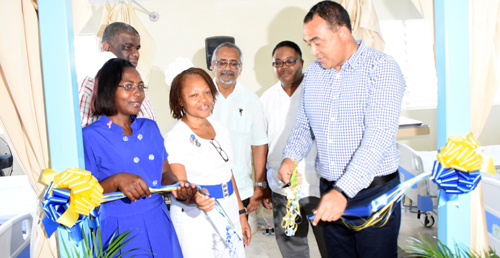 Sashane Shakes – Staff Reporter 
The Cornwall Regional Hospital now has 44 additional beds that were handed over by the Ministry of Health in an official ribbon-cutting ceremony last week Friday, November 9, 2018, at the institution.
 "On one hand, we are enhancing our ability to provide quality service to patients that need it and today marks another feature of that with the expansion of beds, another 44 with another 36 to be added shortly to make it 237," said Dr. Tufton.
The 237 beds have been distributed to different areas of specialization, essentially alleviating the burden being faced in relation to persons having to wait to be admitted.
"From an inpatient care perspective, we can say that we are making good progress in ensuring that we are moving to a level that is not exactly full capacity, but certainly able to accommodate more persons who have to spend time in the hospital," remarked Dr. Tufton.
Benefiting from 44 new beds are the Maternity Ward and the Male Ward with a further 36 beds to be added to the currently under construction – extension of the maternity ward over the course of the next few weeks. The bulk of the 237 beds are at the Falmouth Hospital to facilitate the conducting of surgery specialization.
The installation of the new beds follows the recent expansion of the Accident and Emergency (A&E) Department and improved services in Compassion Care in September this year.
Dr. Tufton is reassuring the public that by next week, some tangible work will be starting on the main building as contractors will be removing the roofs and extracting the unused unwanted material in the building, including the defective ventilation system, which is one of the main reasons for the evacuation of the main building.
Electrical and plumbing work is being estimated to start in the new year.