Two other MoBay business stalwarts pass on
Barrington Flemming
Staff Reporter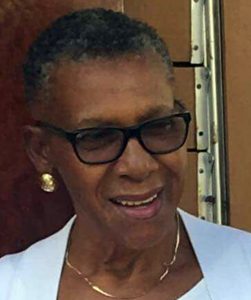 The business community in Montego Bay was plunged into mourning on Saturday morning when well-known operator of the Bogue Wholesale Monica Edwards died in a motor vehicle accident along the Unity Hall main road.
Reports are that Edwards, 72, of Unity Hall, died from injuries she sustained when the Nissan Sentra motorcar she was driving, was engaged in a collision with a tour bus along the Unity Hall main road.
Indications are that about 6:30 a.m., Edwards was driving towards Montego Bay en route to the Charles Gordon Market, with a bus and two cars travelling in the opposite direction.
Unconfirmed reports indicate that a bus travelling behind Mrs. Edwards' car bumped into it, forcing it into the direct path of the oncoming bus, causing a head-on collision.
The bus, which reportedly bumped into the Sentra, tried to swerve away from hitting into it and fell into a nearby ditch.
As a result of the accident, six persons received multiple injuries and were assisted to the Cornwall Regional hospital for treatment.
Edwards was, however, trapped in the Sentra. Her lifeless body was later removed from the vehicle by a team from the Jamaica Fire Brigade using the "Jaws of Life" to pry her from the wreckage.
In the meantime, Montego Bay lost two more of its illustrious lights over the past few days with the death of Managing Director and proprietor of Discount Lumber and Hardware, Basil Johnson, who was said to be ailing for some time.
And, the Hemingay Preparatory family is also in mourning after its co-founder and owner, Nnbute Piggott, passed away on Monday night after a brief illness