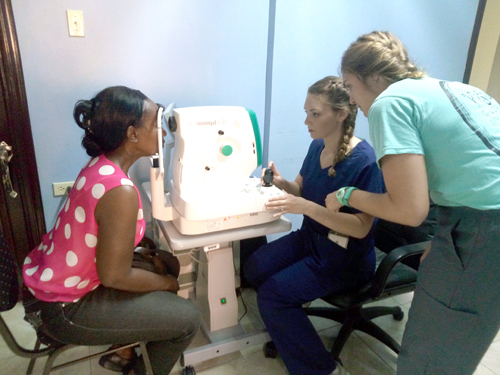 Praying Pelican Missions (PPM), a non-denominational, voluntary Christian organization with its headquarters in Minnesota, USA, will conclude its week-long vision care clinic at Frome in Westmoreland today.
A vision care team of 17 second to fourth year Optometry students and one member of staff, Dr. Richard Savoy from Southern College of Optometry in Memphis, Tennessee, partnered with the PPM staff and journeyed to Frome, Westmoreland, to serve at the Gamertsfelder Mission Centre with Mission of Sight and the Church of The Nazarene. These Doctors-in-training are also a part of an organization called Fellowship of Christian Optometrists, whose aim is to meet both the Visual and Spiritual needs of the patients.
PPM merges partnership with the local churches in parishes throughout the island and assists with various projects, identified by the pastors. The most recent partners are the hosts, Pastor Lionel Brown and his wife Pastor Jennifer Brown, local pastors of the Burnt Savannah Church of the Nazarene.
The team performed eye exams with Dr. Douglas McCloy and Dr. Tessah Kanter at the Eye Clinic and performed eye screening for approximately 250 staff members at hotel resorts in Negril and dispensed glasses to 70 students in three local schools.
Dr. Douglas McCloy, who is also Chairman of the non-profit compassionate ministry, Mission of Sight, said he has been in Jamaica since 1995 when he did a one-year Optometric Internship at the Mandeville Public Hospital.
"That is the most significant clinical year of my life," recalled Dr. McCloy.
Prior to his internship in 1995, he frequented Jamaica for pleasure; the fun of Spring Break in Negril, but after completing the Internship in Mandeville, Dr. McCloy shared that: "I went back home and found grace with God in my life and returned to Jamaica, with my wife, on a more purpose-driven mission to share the good news I have discovered and to help strengthen the Church of the Nazarene." He also stated that the beauty of the Jamaican people and the relationship formed is a bond of friendship which kept him coming back.
Acting on his vision to help the blind to see both physically and spiritually, in 2008 he helped to break ground for the Gamertsfelder Mission Centre in Frome to facilitate the care of Cataracts and Glaucoma.
The first eye surgery was successfully done in 2014, since which Cataract and Laser surgeries are being successfully performed. Dental care is now also being operated at the Centre. In addition, there is also vision care offered to children in schools, under the theme "See Better-Learn Better"
PPM has been operating out of Jamaica for over six years. Its Jamaican Operations Manager, Brent Kirk, who has been living in Jamaica for over 25 years, shares a passion for the holistic approach to missions and the expansion of PPM, which presently serves in over 14 countries of which Jamaica plays an integral part.