This week, the Western Mirror caught up with some of the schools who have been a part of the See Better. Learn Better programme, organized by Cornestone Jamaica. Here are their reviews.

ST PAUL'S PRIMARY SCHOOL: "The St. Paul's Primary School Family has benefited greatly from the See Better. Learn Better programme, organized by Cornerstone Jamaica, who has partnered with the Rotary Club of Negril and Mission of Sight. My entire student body was tested and it was found out that at least twenty students were in need of immediate eye care.

The parents were extremely grateful because financial constrains prevented most of them from having their child/children visit the eye doctor on a regular or purchase eye glasses if need.

I can recall one grade six student having to always sit very close to the teaching board because he was unable to see. He had glasses in the past, but they broke and his parents could not replace them during the time of his crucial examination preparation. See Better. Learn Better came to the rescue. He went on to sit his exams comfortably and got passes to attend a prominent high school. We heartily thank the organizations for their support and recognize the value that they brought to in school. I endorse See Better. Learn Betterto become a national programme to benefit more students." Camille Davis- Williams, Principal, St Paul's Primary School.

SHEFFIELD ALL-AGE SCHOOL: "Wows and faces filled with big, bright, beautiful smiles filled the Sheffield All Age School auditorium when students received their new glasses from the See Better.Learn Better programme. This programme has afforded numerous students who would have otherwise had limited access to vision care, the opportunity to get a full eye health and vision exams, thus giving them equal chances to achieve a sound primary education. I have seen were students who had issues seeing the teaching board and participating in various educational activities, are now able to correctly copy information from the board. In addition, we saw a boost in confidence from those doing written activities and participating in experiments due to the ability to see well. Furthermore, we saw incremental increases in some pupils' academic performance.

The high level of professionalism of the See Better.Learn Better Team is commendable as pupils felt happy and comfortable during the various eye screening and exams.

As a school community, we would like to thank Cornerstone Stone Jamaica, Rotary Club of Negril and Mission of Sight for taking this invaluable programme to the Sheffield All Age School. We expect to see improvements in children learning the 21st Century skills due to the ability to see better and we, therefore, look forward to this continued partnership for years to come." Ramon Bremmer, Vice Principal (Acting), Sheffield All Age School

REVIVAL ALL –AGE SCHOOL: "The Revival All-Age School has been privileged to be a part of the See Better.Learn Better programme with Cornerstone Jamaica. The students are very excited to have received their glasses and many of them wear them as directed. We have seen great improvement in students' academic performances and attitude towards work as a result of the new glasses that they were given. One Grade Six student who would normally sit at the front in order to see the board is now able to sit at the back and see the board from where he is. He is now completing every classroom task given. Thanks to Cornerstone Jamaica for helping us to see better and learn better." Annie-Kay Foster-Wallace, Guidance Counsellor

BARRETT TOWN ALL-AGE SCHOOL: "In the second term of the 2018- 2019 academic school year, Cornerstone Jamaica, through the See Better.Learn Better programme in association with The Rotary Club of Negril and Mission of Sight, through one of our stakeholders Half Moon Rose Hall, impacted our school at Barrett Town All Age. Eye testing was conducted by licensed ophthalmologists and through said initiative, we became cognizant of the various students who had challenges and the importance of being able to function effectively.

The feedback from parents/ guardians were feelings of great appreciation. Teachers and other members of staff also saw improvements in our children's day-to-day socialization. We are eternally grateful for the overflowing support given by Cornerstone Jamaica and hope that they will continue in said venture to impact the lives of our nation's children thus enabling them to reach their full potential.

"At the end of our lives, we will not be judged by how many diplomas we have received or how much money we have made. We will be judged by the lives we have touched." Ventris Edwards, Acting Principal- Barrett Town All Age.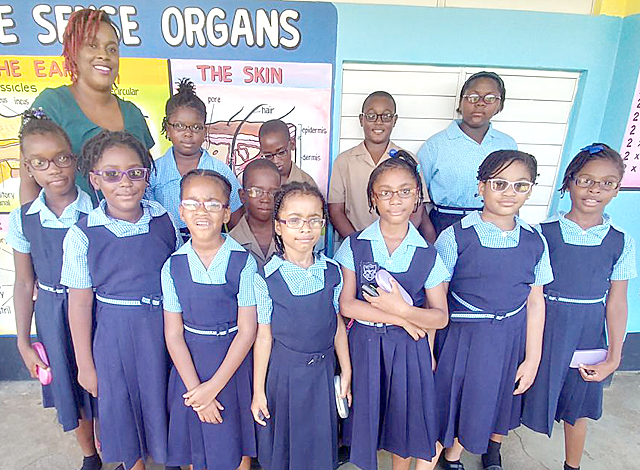 written by: Rosalee D. Wood
rosawwesternmirror@gmail.com