Barrington Flemming – Staff Reporter
It was a narrow escape for the driver of a concrete mixer truck who is happy to be alive today after the truck he was driving along the Mt. Salem main road in Montego Bay overturned, approximately 10 o'clock, along Cottage Road in the vicinity of the Montego Bay Cricket Club Friday morning.
The impact shattered a section of the security wall at the Montego Bay Cricket Club, while some of the premix concrete leaked from the truck, sparking a run by passers-by who seized various containers, including buckets, and helped themselves to the concrete.
The still-shaken driver, who managed to pull himself from the truck, escaped unhurt, losing a foot of his sandals in the process. He, however, did not give his name.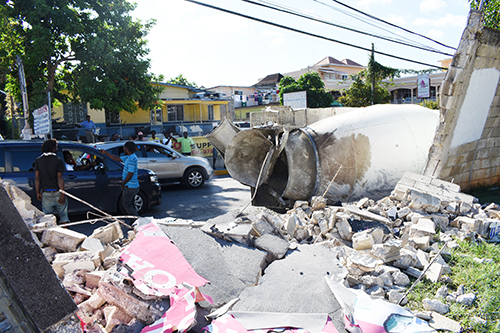 "Mi a tell yu, when mi tek a stock mi a drive from Mt. Salem hill coming down fi reach Ironshore fi get some work done. Mi a come down so easy and one car come from Humber Avenue so the next one coming around, him follow him. So when a my tun fi come down now, a him dat; so me ease down pon di brake. Mi feel di truck like it a lean to one side.So mi a try fi turn it and balance it."
He said he does not believe the concrete was mixed properly, so it was sticking in the truck and leaning to one side, making the truck unbalanced.
"It never de spin fast either it just a go one lash.One time mi feel di truck a lean to the right and mi try fi steer it to the other direction, but it wouldn't balance because it feel like is the same side the concrete hitch pon. And it just turn over. Mi frighten but mi never panic.
The truck crashed into the Montego Bay Cricket Club wall, drawing a number of onlookers who came to investigate what had happened.
One woman, concerned for the welfare of the driver of the vehicle and unaware that he was a mere foot away from her, said: "Lawd have mercy! Di driver must inna hospital, him suppose to mash up bad! Oh God no."
According to the driver, who planned on leaving the trucking business, he is grateful to have survived.
"Yu know seh mi tell miself seh after December mi nah go drive no more truck? And now, December nuh come and look yah now. Mi glad seh mi alive and mi nuh get nu bruk bone, so mi done wid dis."
President of the Montego Bay Cricket Club, Clive Waldron, when contacted, was unable to provide a comment at the time.