Michael Nattoo/Alan Lewin
Often, the stories of people falling in love are littered with clichés – seeing someone across the room, or all of a sudden seeing an old friend in a new light, etc. They are many, as they are forgetful. But not the story of the Sheryl Johnson and Evan Tavares. Before the two found the love that would see them being married for over 7 years now, they were both roaming the streets of Montego Bay as homeless persons, unaware that the February of 2012 would see them tying the knot and living on their own, off the streets of the Western City.
Evan revealed to the Western Mirror that he had been homeless on the streets of Montego Bay for 10 years  – a stint which fortunately ended in 2008, after he decisively went to get help. Just how did he end up on the streets? Life wasn't always like that for Evan. Prior to living a whole decade without a place to call home, he was, at points, comfortably living with a woman in a community in St. James. But that situation became unbearable for Evan, who opted to live as a vagrant instead, rather than under the conditions he was in that relationship.
With ten years of unimaginable hardships behind him, Evan sought help and got it from the St. James Municipal Corporation, specifically through the assistance of a Mr. Duhaney, who accommodated his request to land him a space at the Open Heart Charitable Mission Night Shelter. That move seemed predestined, as it was there that Evan met and fell in love with Sheryl Johnson, who had been living at the shelter for a while.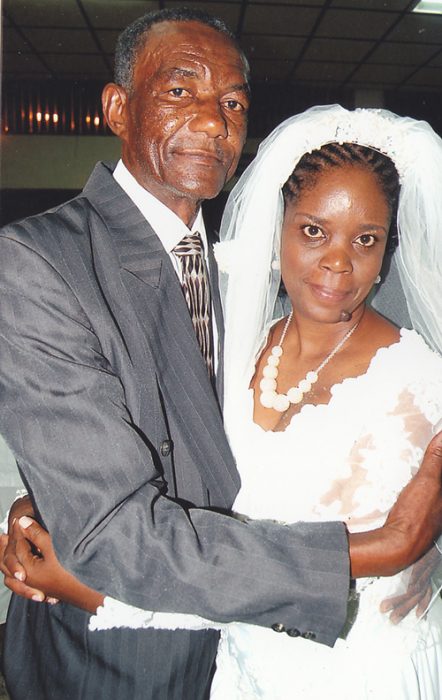 Johnson is originally from Kingston. After moving to Montego Bay in search of a better life, she too fell on hard times, and for a while lived on the streets of Montego Bay. She was not long after admitted into the shelter. Some years later, an almost always smiling fellow caught her attention at the shelter. She later married him – becoming Mr. and Mrs. Tavares in the process.
NEW LIFE
The two now live together in a house in the Glendevon area, and are members of the Calvary Baptist Church in St. James – the same church at which they got married back in 2012. And it was quite the ceremony. It was attended by Evan's 7 children – all adults, among others, and had Reverend Everton Jackson presiding over the proceedings. Since then, life has been good, but far from perfect.
Evan suffered a minor stroke while he was out selling at a football match at the Catherine Hall Stadium, which has significantly set him back. And despite being broke as a result, Evan has not suffered, primarily because of his sister, Cynthia Tavares, who has ensured that he gets grocery every week.
"I want to thank my sister, Cynthia Tavares, who continues to assist me with groceries on a weekly basis. If it wasn't for her, I don't know how I would survive," Evan shared. No help, however, is too much. Evan and his wife remain grateful for any assistance the public may be willing to give, cash or kind.
Though life is a far cry now from the days of him working as a security guard at the Holiday Inn, or even his days doing construction or factory work, Evan has kept a positive mindset on life. Though we caught up with the couple on their way from church, Sheryl remains her shy self, and seemed to be comfortable with her husband entertaining our questions. We were, however, privy to some exciting inside scoop: they plan to have an anniversary celebration next year, and are confident it will keep their flames for each other burning. It's clear: when no roof was over their heads, love became their home.