Michael Nattoo – Staff Reporter
Her name is Ashone Rose. We're kidding, it's actually Ashane Rose, and just a few weeks ago, you may have met that dynamite of a woman. Granted, we mistakenly referred to her as Ashane Blackwood (she says we're forgiven), but that didn't take away from the flair we witnessed in her, which made it almost nonsensical not to consider sharing her story. Lest you forget, Ahsane is no ordinary woman, and we promise you that's not an overstatement. The 20-something-year-old William Knibb alum copped the coveted Fashion Face of the Caribbean in 2009 AND secured an on-the-spot contract with NEXT Models Worldwide. She also modelled for ZARA and other leading European designers during, wait for it – London and Parish Fashion Week! See, we weren't exaggerating.
"I grew up in a community called Lilliput in St. James with my mother – my queen, my backbone, my everything, and my brothers, who are my best friends, and my older sister," the young model explained, adding that her childhood was amazing as a result. She also gave a shout-out to Kay, her day one so, "Hey Kay!" Throughout our conversation with, and we feel confident in saying this, the blossoming icon, we just got a feeling that she was one of those souls that brought light with her wherever she went, and our suspicions were confirmed when she gave us a peek into how she sees herself when she told us, "I always have something to say and 90 percent of the time, it's something to make you laugh." She continued, "I am a happy young woman. I always try to be positive and spread positive energy." After those words, a noticeable silence hung over our free-flowing exchange. So we waited. We found out moments later, however, that Ashane, in what we suspect might be typical fashion for her, only went silent because, according to her, "Every time I'm asked to describe myself, I forget who I am." Yup, that laughter-inducing response was every bit of what we expected from the confident Rose.
Just how did she get involved in modelling though? Better yet, how could she have progressed to the heights that she did with such grace and effortlessness? Well, with full credit to her surroundings and her family, Ashane explained that modelling, though laborious at times, was certainly not new territory for her. "I was introduced to modelling when I was four years old. My mother took me to a pageant and I fell in love with it," she relayed. "I went home a model that night," Ashane remembers. Although to be completely honest," she says, "I had no idea what fashion modelling was," until, of course, the moment she met Mr. Saint International himself, Dweight Peters.
CONFIDENCE AND THE SUPERMOM
"He scouted me at my school," she explained, and although she only had her sights set on entering pageants like Miss World or Miss Universe, that all changed when the world of Fashion Modelling opened up to her. The rest, as I imagine we all know by now, was history. "I continued grooming with Mr. Peters for a few months and the following year, I was doing London Fashion Week. In my first season I did eight shows in London, and then went to Paris where I did seven shows." How did she flourish though, considering that this all happened as a surprise, and at such a fast pace? We wanted to know, and were over the moon when she indulged us.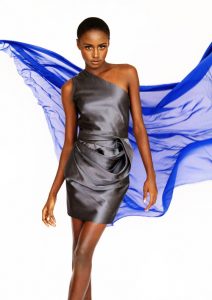 "I wouldn't say it was a surprise," she began. "In the back of my mind, I knew I would do well. I'm not conceited, I promise!" The jokes kept coming from her, but she reminded us that it was all just confidence instilled in her. "It's just that I'm really confident about myself, thanks to my mother Annette. With a mother like mine, it's hard to not be successful when all she does is speak greatness about all her children," Rose asserted. It's no wonder that when she ventured into that new territory and gave it her best, that her best proved to be good enough. The adorations for her mother did not stop there. They served as constant reminders that her mother really was her unshakable and immovable rock. "She's the strongest little woman I know. She works extremely hard to ensure we are all OK. She supports us 150%. She allows us to be our best selves and never tries to live her life through us, but always tries to nurture our dreams, goals and aspirations as long as they make us happy," she added, "and as long as they don't kill us." We're not sure if Ashane realized, but we tried to ask if her mother was looking to adopt, but alas, she wasn't. That wound was not spared the salt, as Ashane continued to pour it as she gushed some more about her Superwoman of a mother. "If we fail, she helps us up, brushes us off, and asks 'What's next?' For as long as I can remember, she's been telling me: 'Ashane, you are a star and you will always shine. What's yours will be yours and no one can take it from you.' I live by that." It's fair to say our, we mean, Ashane's mom, is a life coach. Perhaps the best one yet.
CHALLENGES AND ASPIRATIONS
Despite the confidence, the experience from Jamaica to London and Paris was not without its challenges. "Getting out of my comfort zone was something I had to contend with. Being a tomboy and being a model can be difficult. I was never a fan of makeup or dressing up, and I had to change that. It did take me a while, but I got it together. Now, every now and again I look like a little woman," she joked again. Rose also mentioned that she had bouts of homesickness, but those were easily fixed with a phone call across the world to her mother and her sister.
"I had my down days and I had to fight through them. I never had the luxury of running to anyone when I encountered problems there, so I had to fix what could be fixed on my own," she revealed about encountering obstacles while away from home.
Would she recommend modelling to anyone? "Definitely! Modeling is great! The experience is amazing –   traveling the world and meeting people from all walks of life is an experience. The fast life, the always on the move and ready for anything to pop up at any time gives a thrill. It's amazing." Above all those Bucket List-worthy joys modelling provides, nothing brought happiness to Ashane more than when she had her son. That was the icing on the cake for her. Though grateful for being involved in the ZARA campaign and seeing her face on a Billboard, motherhood brought with it an insurmountable level of joy, that she is all too happy to be wrapped up in right now.
What's next for the unstoppable Rose? "Music! It's my first love. It's what I want to really do with my life. It has always been my passion."
In that breath, we can't wait to see what blossoms on that path for the beautiful Rose.