Noelita Lawrence
It remains share joys, thrills, dancing and singing, as Hanoverians and the wider Western region are still in celebratory mood after Rusea's stormed to an 11th hold on the prestigious ISSA/Flow da'Costa Cup Schoolboy Football title.
Entering the showdown as underdogs, the Vassell Reynolds-coached institution hoisted the title for the first time since 2011, with a stunning come-from-behind upset win over overwhelming favourites, Clarendon College.
Cheered on by a jam-packed stadium, the nippy Daniel Reid and an emotional Leonardo Fogarty, with an exquisite strike in the 80th minute, were the scorers for Rusea's as they upset the form book.
In classic celebratory mood on Monday morning at the school, the team paraded before their peers in grand style, showing off the trophy and rapping with the student population.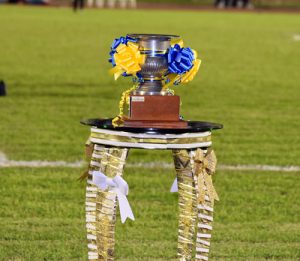 In the classic, fast-paced contest on Saturday, Clarendon were merciless in their attacks, but lacked the killer instinct in the finish, before taking the lead midway the first half.
Rusea's, despite not being on the score sheet, maintained their shape and battled back, leveling things at 1-1 ten minutes into the resumption through Reid, who darted past three defenders before uncorking a shot which lodged into the corner of the net.
With ten minutes to go, Fogarthy, emotional throughout after being reminded of accomplishments of his beloved father for Rusea's in his glory days, capitalized on a defensive lapse, before darting into the 18-yard box and uncorking a stunning, unstoppable shot into the back of the net, sending the crowd into a frenzy.
Vassell Reynolds said the victory was sweet for his troops and very rewarding.
"I have won other trophies (speaking of his time at Wolmer's Boys in Kingston) but this one is special".
He said: "Work on the boys, physiologically, was a great help and worked wonders"