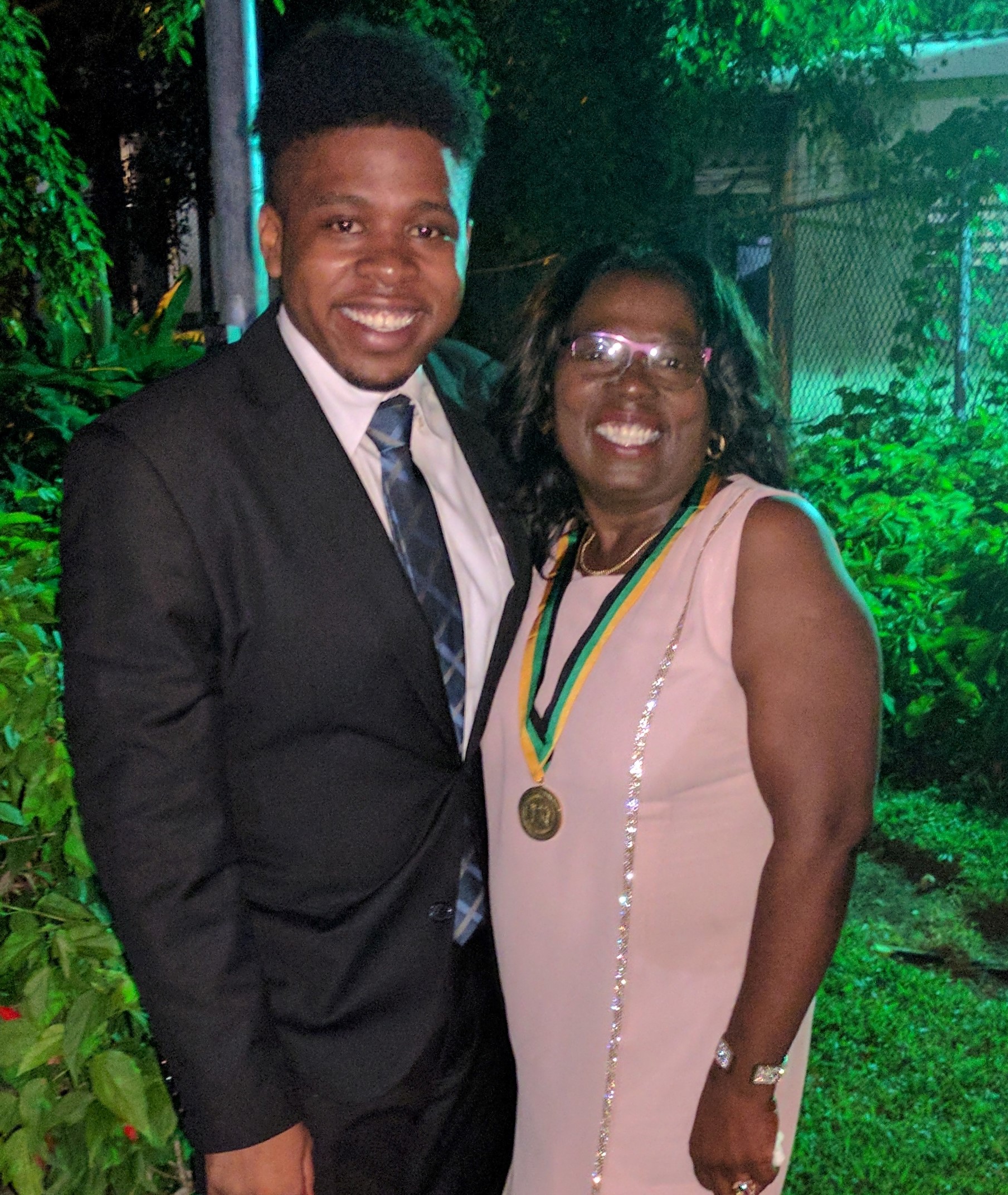 Volney Barrett
Freelance Writer
For as long as she can remember, Mrs. Judith Wallace has had an unwavering commitment to improving the volatile community of Green Pond, which is situated in St. James, whether through teaching or activism.
A teacher for 26 years, she was, on Wednesday, June 21, 2017, recognized for her hard work in education by Prime Minister Andrew Holness.
The occasion was the Prime Minister's Medal of Honour Ceremony held at Jamaica House, with scores of other educators being recognized for their commitment to the nation's children.
In addition to being a senior teacher at the Farm Primary and Junior High School located in Green Pond, for all of her 26 professional years, she has, since 2015, held the Presidency of the Green Pond Community Development Committee (CDC).
For years, Green Pond has experienced sporadic incidents of violence. There have been many periods of calm in the area owing to the efforts of community members, Peace Management Initiative and the police.
COMMITTED TO SERVICE
Despite the violence, Mrs. Wallace remains adamant that "we can't all run from the community because of a few bad apples." She says she is determined to continue working to improve her beloved Green Pond community.
"In spite of the crime and violence, I have garnered the respect of residents in the community… I've worked with a lot of young people too… we can't all run from the community… I have my home here and my job," she further reasoned.
She went on: "I've gotten several opportunities to migrate but I enjoy my job and I enjoy working in the community,"
After graduating from the Sam Sharpe Teachers' College in St. James, her application went straight to Farm Primary and Junior High, where she is now one of the Grade Six Teachers.
PROJECTS
In her capacity on Green Pond CDC President, she has played a very pivotal role in the undertaking of a number of successful projects.
These include the establishment of a computer lab at the school. That facility not only serves the school, but community members as well. Support for that venture came from the Universal Access Fund and the Technology Ministry. The CDC was also involved in the erection of a fence and guard room at the institution.
She credits her CDC team and community members for the success of these projects. She also recognized the successive political representatives for their involvement.
"If you're gonna do something for your community, just do it. Be committed to the development of your community… I love to see improvement… I am always motivated by that," a passionate Mrs. Wallace charged.
PM's MEDAL OF HONOUR
In the meantime, Mrs. Wallace is celebrating her achievement, having been among scores of teachers recognized for their commitment to education. Four teachers from St. James, including Mrs. Wallace, were honoured at the event.
"I'm feeling honoured to have been awarded by Prime Minister Holness… I always believe that when you work hard, someone will notice," she added.
She further reflected: "I have worked hard at the school and in the wider community and to be recognized in this way is quite a humbling feeling."
TEACHING IS REWARDING
For her, teaching is a most rewarding job. Her only challenge is with the effects of what she described as poor parental involvement, however, she, like her colleagues, remain undaunted.
"My main challenge is with poor parental involvement…when a child turns up without books and other material and we don't even see them around. It's as though the children are just sent out of the home to spend the day at school," Mrs. Wallace expressed.
For Mrs. Wallace though, she is motivated especially when a slow student improves under her tutiledge. She cited one example of a GSAT student whose average was in the range of 30 percent when he came to her class.
"I worked with him and now he is coming out of GSAT in the 70s and he is heading to Williams Knibb (Memorial High School in Trelawny)," Mrs. Wallace shared. According to her, it's successes like those that motivate her as an educator.
PRINCIPAL REACTS
Principal of Farm Primary and Junior High, Victor Newsome, congratulated Mrs. Wallace on her feat. He describes her as dedicated.
"It is a very good award… it is well-deserved. It just goes to show the kind of committed teachers we have here at Farm Primary and Junior High. Mrs. Wallace has always been dedicated not only to school but to the wider community. She is all about improving lives," he reflected.
Mrs. Wallace received a medal and certificate at the event. The other three St. James awardees were: Paulette Kennedy of Maldon Primary; Winston Davis Jennings of Roehampton Primary School and Elaine Adassa Clarke of Anchovy Primary School.