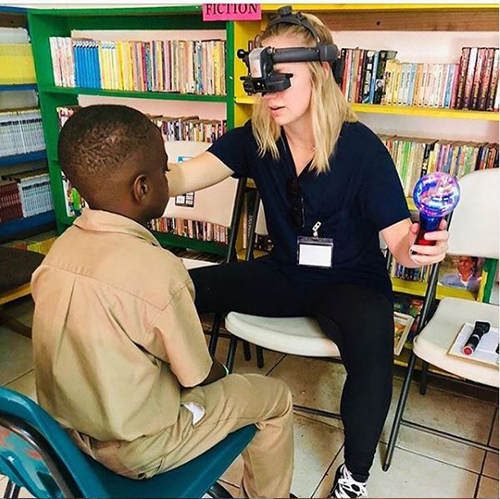 See Better, Learn Better with Cornerstone Jamaica
Rosalee D. Wood
In the year 1983, Gary Robinson took his first trip to Jamaica, where he stayed in Negril, which has been his vacation destination ever since.
His wife was diagnosed with a life-threatening illness that had put him through a rough time. He soon discovered that while he was praying for healing abroad, his Jamaican friends were also praying. When his wife was healed, he was overcome with gratitude that he wanted to give back to the wonderful people who had stood by him. People who became family.
He started what he called a Laundry, Shoe, Clothing Project that provided assistance for persons who may have been fire victims or just people in need. However, a friend suggested he improve the project as this was not sustainable. Robinson agreed as he believes it is better to teach a man how to fish than to give him a fish. Thus, Cornerstone Jamaica was birthed in 2011.
Based in Western Jamaica, Cornerstone Jamaica is a team of professionals from various industries, local and abroad, working together to achieve one goal. Their projects are geared towards improving health and education in Jamaican communities.
The cornerstone is the first stone laid in any foundation, therefore it must be solid. Each project is geared towards long term development of the community and Jamaica on a whole. It is not surprising then that Cornerstone Jamaica has started with schools. It is from this that the first project, 'See Better, Learn Better,' was launched, with the focus of fitting students in need with tested glasses.
The project began in 2015 and sees the organization uniting with the Rotary Club of Negril and the Mission of Sight. School visits are done where students do eye tests and are fitted with brand new eyewear if glasses are required. The organization is of the belief that students who are not attentive are often troubled by other health issues, one such is poor eyesight.
By improving their vision, Cornerstone Jamaica believes that students will be better positioned to achieve greater academic success. "We track the students' receiving glasses to provide evidence based data on improvements in literacy and school performance." Says Anika Robinson, Communications Manager for the organization. "It is our aim to be a part of all schools across the island."
In November, the organization will be having a major back-to-school clinic, which will be the launch of a series across Western Jamaica.
Pick up a copy of the Western Mirror each Monday to get more information.