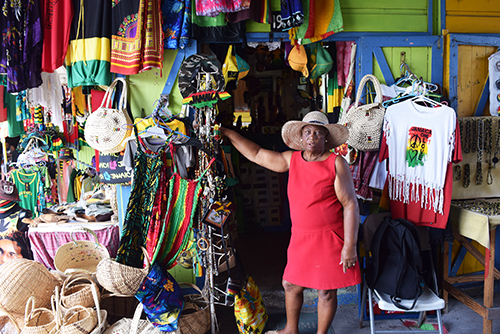 MGN/Alan Lewin
"I will not leave the craft business for any other work, even if it's paying big money. I just love my craft business and the pleasure of meeting and greeting tourists," shared Myrtle Cargill – a craft trader with more than 50 years of experience in that field. With the self-given moniker, 'Myrtle The Turtle', she recalled quite vividly to the Western Mirror how she began that journey. "My uncle gave me 10 pounds in the early 60's to look at a shop to buy. I bought the shop at Strand Street behind the then Civic Centre where the old Craft Market was. From those same funds I got from my uncle, I was able to stock up the shop, and from then, it was pretty much smooth sailing, as my business began to boom and I got to save a lot of money from my earnings."
DISASTER STRUCK
In all great stories of resilience, there are trials to be found, and for Cargill, no other moment proved more trying than when disaster unexpectedly struck. A fire of unknown origin swept through the area, damaging the old courthouse, and, unfortunately for Cargill, completely incinerating shop and her stocks in the process.
Forced to start over, Cargill relocated to Creek Street, and from there, built her craft business from the ground up. Though a number of challenges were expected – and even encountered, during that period, Cargill ultimately saw her fortunes change rather swiftly. She reaped a lot of success, and was once again able to save a lot of her earnings as a number of tourists still found and flocked to her shop for all the unique items she sold.
TO THE HARBOUR STREET CRAFT VILLAGE
The Harbour Street Craft Village soon came on stream following a lengthy construction period, and proved to be next grounds Cargill would set her sights on to continue her success. She relocated to the area – and has been there since, to this day. The move, Cargill recalls, was only another in her many business exploits across the city. Cargill shared that one point, she rented a shop at the City Centre Plaza where she reaped just as much success being the only black persons among the Indians selling souvenir items. But that was not without its struggles. Cargill was held up and robbed by gunmen on three occasions, but remained undeterred. That resilience paid off. Cargill soon had the privilege of selling items to former President of the United States of America, Ronald Reagan and his family, as well as legendary boxers Lennox Lewis and Sugar Ray Leonard, and international footballer, Roger Miller.
For the long-serving craft vendor, the challenges have been worth it. Just last year, she was recognized by Minister of Tourism, Ed Bartlett, for her over 50 years serving the industry, receiving a plaque to mark the occasion.
With her vast catalogue of items – to include straw caps, bags, Bankro baskets, T-shirts, dresses, jewelry, and others, Cargill continues to be a trailblazer in the craft vending world. Considering that the industry has been struggling in recent times, Cargill believes the Bottom Road Carnival should be revived, and that restrictions should be stripped regarding craft vendors selling to a number of stores.
Cargill has already done 50 years, and shows no sign of letting up now.
TRAVELERS' ROUNDUP