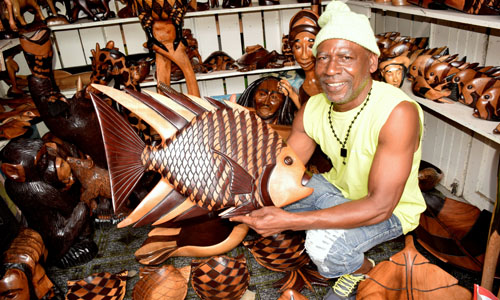 Alan Lewin – Contributor
Talent can be spotted in an instant, but perhaps most intriguing is the individual's ability to convert the simplest of materials into a masterpiece. While talented people roam the earth, Jamaica definitely has its fair share and woodcarver, Lapwing is just one of the chips off the talented Western Jamaican block.
Lapwing started carving alongside Kelly, Norman at the Harbour Street Craft Market in the early 80's and his unique ability to draw made him very instrumental to Mr. Kelly who employed him as his main carver. Lapwing was being rewarded handsomely for his abilities as his weekly pay motivated him to continue doing carvings for a living. So versatile is he, he can replicate almost any object through drawing. However, his most notable carvings are that of various animals such as fish, alligators, crocodiles, turtles, giraffes, lions, parrots, elephants, owls, chickens and bulls. He also carves bowls and images of the Jamaican national heroes.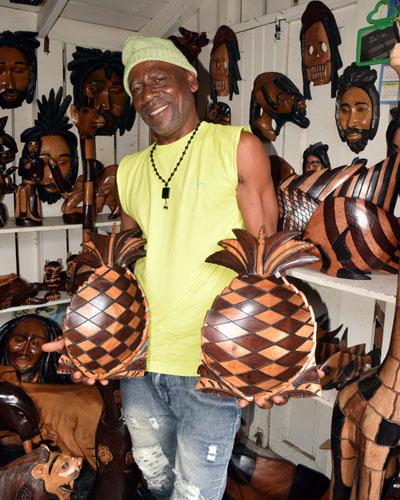 While he is known by many as Lapwing, his mother christened him Trevor Samuels 55 years ago. He was born in Cascade, Hanover, but spent most of his time in St. James. His early schooling began at the Mount Salem Primary and from there, he went on to the St Phillips Academy which was located on Brandon Hill.
Although his talent and the work produced over the years have largely gone unnoticed, in his opinion, they are award worthy and he is not ruling out the possibility of getting that big recognition from some notable person or institution any time soon.
From working under a craft vendor in his younger days, Lapwing is now the owner of shop 114 at the Harbour Street in Montego Bay, where he has shelves and walls full of his carvings.
Lapwing confessed that tourists are his main supporters and he tries to be available to them but "it is too hassling" to transport his wood carvings to and from the pier where the ships dock in Montego Bay based on their sizes.
Many returning residents introduce his business to new customers, which is one of the things that keep his business going. "Most of my works are based on recommendation from visitors who send tourists to my shop to buy carvings and jewelries, and I am pleased with them for that. It shows that my work is well-recognized and I am happy for that," said Lapwing.
One of his carvings can be found in the hall of the Glistening Waters Hotel in Falmouth, which he admits gives him a sense of pride to look at.