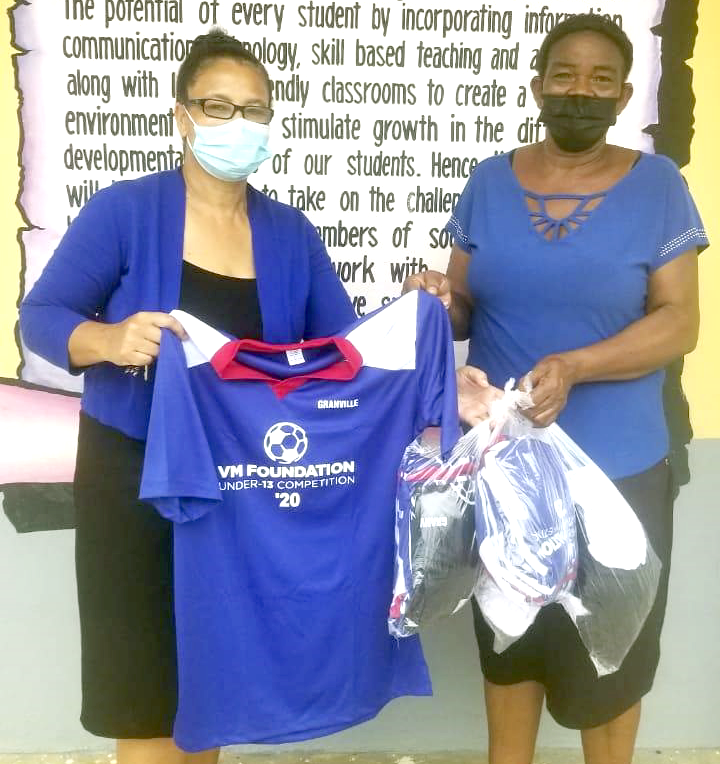 Despite the continued absence of game time and the extended uncertainity surrounding the playing of footbll on the island, banking institution, Victoria Mutual Building Society ( VMBS) has continued its pledge of support to the age old annualSt. James under 13 football competition.

In pledging their support and reaffirming their commitment, VMBS recently handed over several team jerseys to schools who had indicated their intentions to participate in the annual competion, just befor the pandemic struck.
VMBS has been involved in the competition for some 32 years, through sponsorship.

The teams handed jerseys include 7-times reigning champions Granville All Age who has held the trophy now for some three seasons, because of the none playing of the competition, many times finalists and former winners Corinaldi Avenue Primary, Irwin, Barracks Road, Catherine Hall, Chetwood Memorial Primary, Barrett Town, Success, Mount Salem, Gledevon, DMP Academy, Green Pond Primary, Bethel, Bogue.

The likes of former champions Howard Cooke, St. James Prep, Montego Bay Prep, Montego Bay Christiana Academy, Heinz Simonitsch, Catadupa, Bickersteth, Maldon, Johns Hall, Roehampton, Dumfries, Lethe, Buckingham, Somerton finalists back in 2014, Salt Spring, and two former champions Anchovy and Flankers are down to receive later this week.

Longtime coordinator of the competition, Hopeton Gilchrist told the Western Mirror he was delighted with the gesture adding, he also is committed to the cause and the competition……" I am really delighted to know that VMBS has pledged to stay on board with us, this is an important competition for the parish (St. James) many players on our national teams, including youth ones started out here so, we (the organisers) are keen to keep it going. As with most competitions, sponsorship, mney is needed so t is just comforting to know that already that aspect has been taken care of as we have been given that assurance, I am really, really happy for that , having that security, it's refreshing," Gilchrist noted.

The VMBS under-13 competition has been absent from the calendar for the past two seasons, 2020 and 2021 due to the worldwide pandemic which hit in March of 2020, crippling the world.
Noelita Lawrence Ricketts