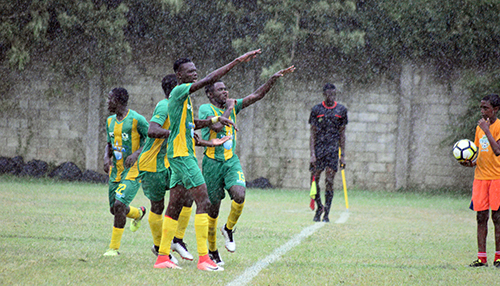 Noelita Lawrence-Ricketts
Early impressionists Manning's are among eight schools gunning for three straight wins tomorrow (Saturday, Sept 14) in the ISSA/WATA da'Costa Cup Schoolboy Football Competition.
Impressive to date, Manning's early pacesetters in Zone 'D', are expected to face their first real test when they come face-to-face with Petersfield at the school grounds.
Manning's sit atop the standings with a perfect 6 points from two games, while Petersfield have garnered just one.
Munro College, who failed to advance from the first round last year, Manchester, Mile Gully, Oracabessa, Annotto Bay, Seaforth and Paul Bogle are the other teams down to hunt a third straight victory.
Meanwhile, the 11-times champions Rusea's will be aiming to join Frome Technical as leaders of Zone 'B' when they challenge Hopewell High in the local derby.
The 'Russians' have won their sole game played and three points would see them joining Frome Tech on 6 from two games. Hopewell too can claim second spot should they manage to snag a win.
It will be the clash of the winless two when Green Island and Merlene Ottey battle.
Merelene Ottey has been winless in five games dating back to last season.
In Zone 'C', early leaders Herbert Morrison Technical High go in search of back-to-back wins in a hope to maintain the lead when they line-up against William Knibb.
'Compre' scored their first win in midweek and will be after a second, which would move them to seven points. Cedric Titus, yet to tick off a win, play at home to Spot Valley, who will also be searching for their second win.
The lead could change hands over in Zone 'A', where leaders Green Pond High and Cornwall College, last year's beaten finalists, will both be at home.
Cornwall are set to be involved in a second successive city derby when they face off with bitter rivals St. James High, oozing confidence after returning to winning ways.
Victory would lift CC to seven points, while a win for St. James High could see them kick-starting their campaign and move to six points.
Green Pond, on the other hand, can assume sole leadership of the zone should they claim three points outright against a tricky Anchovy, if CC lose.
The Gregory Daley-coached Green Pond have scored six goals in their two games, conceding just once.
Maldon and Irwin are both yet to win a game clash in the Zone's other match.
All games are scheduled to begin at 3:30 p.m.
An overall 40 games are scheduled to be contested on the day, ten (10) involving western schools.