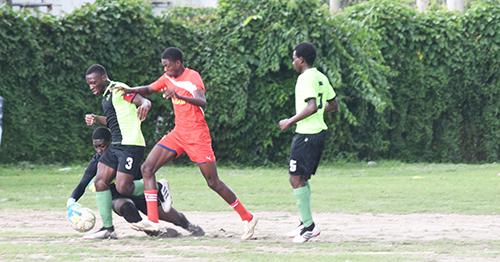 Noelita Lawrence-Ricketts
For the fourth straight year, Green Pond are the champions of the St. James FA/Sandals Resorts International Under-17 Competition.
With the odds firmly stacked against them this year, the Gregory Daley-coached Green Pond defied the odds to clip the previously undefeated Bogue 1-0 in a tantalizing match-up, the first game of the double header played at the UDC field.
Substitute David Morris found the vital goal of the lively and competitive contest in the 67th minute, some 13 minutes after he entered the park in muddy conditions.
Morris picked a ball just inside his own half and took three touches closer to goal before his ferocious effort, encouraged mostly by his teammates and coach, rocketed into the roof of the net, deflecting off the shoulder of the Bogue goalkeeper who was beaten for pace.
The engagement was locked at a stalemate in the first half when officials, headed by Shawn, called a halt to proceedings for close to 8 minutes due to a lightning strike which flashed across the field.
In pouring rain and slippery conditions, both teams battled, seeking the early advantage.
NOT A DRIBBLING GAME
Green Pond had the better of the exchanges and created more scoring chances, the first of which came two minutes into the close of the first half, falling the way of Sheldon Patrick, whose goal-bound shot held up in the water and was eventually cleared by the Bogue defender, mere inches from the goal.
The reigning champions, pulling the ball to the wide areas and whipping teasing crosses into the penalty area, continued to ask serious questions of their opponents, but had to wait until the 67th minute to seal the victory and gain a fourth straight hold on the crown.
The defeat was a first for the sweeping and hot favourites Bogue, who had waltzed past all put in front of them in the preliminary to semi-final rounds.
AWARDS
Green Pond for their win walked away with $50,000, medals and a trophy for their efforts while Bogue, the defeated finalists, collected $30,000 and medals along with school items, namely books, pencils and pens.
Omari Kelvin of the champions Green Pond collected the Golden Boot award for the most goals, eight (8), while Zedford Vaccianna copped the coveted prize, the Most Valuable Player.