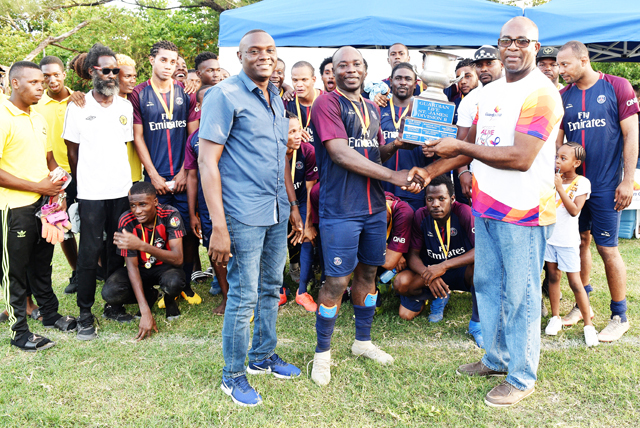 Noelita Lawrence-Ricketts
Adrian Peart's towering header was enough to for Flanker United as they strolled to the St. James FA Guardian Group Division Two Football title, clipping King Gate 1-0 in the grand final on Sunday, July 28, at the UDC field to hoist the crown.
Flanker, with the victory, walked away with the $100,000 purse money, medals and the championship trophy, while their beaten opponents took home $70,000 and silver medals.
The two finalists also gained promotion to next season's Division One League.
Flanker, the installed favourites for the title, lived up to expectations, avenging their only defeat to the said opponent, dominating the King Gate team all the way to the final whistle and ending their unbeaten run.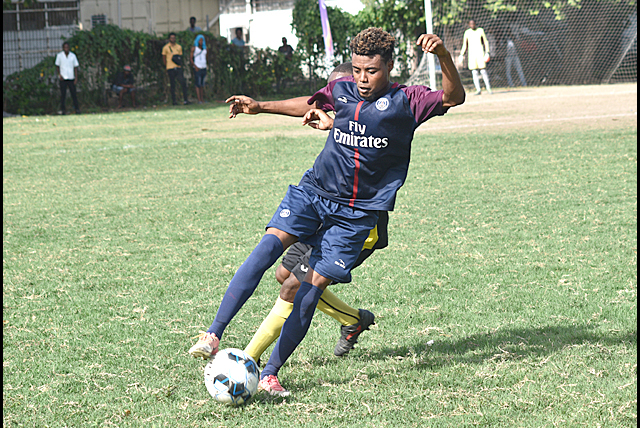 Without a team in any league in the parish since the fall of Fogo, Flanker were smooth in attack and dominated all the way to the finish, despite not being lethal in front of goal, missing a flurry of chances.
Peart's vital goal came in the 25th minute, rising unchallenged between two defenders to power home from a corner kick.
The nippy, speedy Jermaine Irving who was named joint Leading Goal-scorer, Norman Street and Danique Clarke had the big misses for Flanker, who held out for the victory with stout defending.
Flanker were in the driver's seat from the opening whistle and should have opened the scoring when Clarke, in on goal after a driving run down the flank by Irving, saw the ball taken off his toes by an advancing King Gate goalkeeper.
Irving also missed the chance to get on the score-sheet, failing to get a boot to a loose ball at the back post on a drop off which saw him almost on the goal line.
King Gate played in spurts and offered little by way of attack.
PRESENTATONS
Meantime, Better Tomorrow and Rosemount finished third and fourth, collecting 40 and 30 thousand dollars respectively.
Tajae Blake, who again was outstanding for the Flanker team, walked away with the top award of the day, being named the Most Valuable Player (MVP).
Irving of Flanker, along with Lesroy Williams of King Gate, each with four goals, were named joint leading scorers. The Fair Play plaque went to Better Tomorrow.
Gregory Daley, President of the FA, said despite not being around for a few of the games, the season was a good one. "It started out a bit slowly with the teams struggling to get a rhythm, but it heated up in the middle with the top teams separating themselves. The finalists were clearly the better of the lot and in the end I believe the better team won.
"They were a bit more prepared, organized and played like a unit and it paid off in the end. They should cause a few upsets in the Division One," Daley also a coach added.