Noelita Lawrence
Born June 23, 1992, he has a high octane style of play, stands just off the ground, and has a charismatic appeal. He is Donovan Richard Carey, an energetic and at times flamboyant athlete who has a devastating burst of speed, is admired by fans, and is known by coaches as the livewire in the team.
The man who dazzled several when Montego Bay United (MBU) stood tall in the Premier League, hails from Francis Isabella Road in the lively crime-plagued community of Mount Salem, but grew up in the close-knit and quiet rural area of John's Hall, also in St. James.
Carey has three siblings and is the second of four children for his father, while being the first for his mother. A quiet and often soft-spoken individual, Carey, who can be volatile and confrontational on the field of play, began his involvement with football while attending the Mount Salem Primary and Junior High, before time at Irwin High, where he spent some 5 years.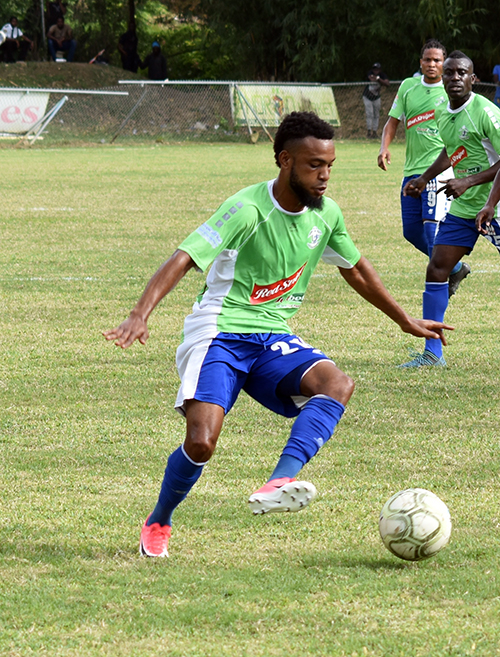 An electrifying player when in full flight, 'Dreadie', as Carey is affectionately called, then started his club career, debuting at New Johns FC, before moving on to ABES, before a stop at Village United, former Premier League challengers and one-time star of the West.
With his marauding runs down the flanks and his tenacity on and off the ball, he attracted interest from Montego Bay United, where dazzled and delighted, helping the team to two titles and three finals.
Carey, who lists his hobbies as playing pool, video games and watching movies, desires to become a coach, and was well on course to achieving that feat before the dreaded Coronavirus struck a lethal blow. He has three CXC passes inclusive of EDPM Electrical and Technical Drawing (TD).
The man whose main aspiration in life is to be able to provide for his family, told the Western Mirror he is targeting a career in Coaching when he hangs up his boots.
CAREY CLOSE UP:
Ques: What is your meal of choice?
Ans: Seafood
Ques: What is your colour of choice?
Ans: Blue
Ques: Do you have a favourite movie?
Ans: Not really a single one, but I love action movies
Ques: Is there a favourite book you've ever read?
Ans: No, I don't have a special book, but from the content is interesting, I'll read it. I'm a reader
Ques: Who would you say motivates you?
Ans: That would definitely have to be my family. They have my back, even when things aren't going my way and they support me in whatever I do, so yes, they keep me pressing forward at all times, always encouraging me to give of my best.
Ques: Do you have a best friend?
Ans: No, no one person like that. I have a few friends who are close to me. We move like brothers
Ques: How tall are you?
Ans: Think I'm standing at 5' 5"
Ques: What's your favourite quote?
Ans: "Never say never, mindset and determination."
Ques: Which team do you support in the English Premier League?
Ans: That would have to be Manchester United (Man U)
Ques: Who is your player of choice on the MAN U team?
Ans: Of course, Martial
Ques: Is there an International player that delights you watching?
Ans: Yes, of course, the great Brazilian Ronaldihno
Ques: Do you watch any other sport than football?
Ans: Definitely. I watch just about any sport. I'm a sports-oriented person
Ques: Who is your favourite person to talk sports with?
Ans: That would have to be a former coach, Phillip Grey.
Ques: Who is your most rated local official?
Ans: The Trelawny native and FIFA-badged Daneon Parchment. He brings a level of professionalism and calmness when he takes to the field. He is always in control of his matches 
Ques: What would you say has been your most memorable game to date?
Ans: The Caribbean Champions League (CCL) against US-based DC United played at the Montego Bay Sports Complex. The contest ended in a 3-3 scoreline. My performance in the game was magnificent from start to finish, I crafted two assists in a standout performance
Ques: What's the most-used app on your phone?
Ans: WhatsApp
Ques: Where is your venue of choice to play?
Ans: The Montego Bay Sports Complex
Carey, who says he has been involved in football since he was just five years old, told the Western Mirror he was introduced and encouraged to take up the role of coaching by master influencer, Mrs. Anglin (Tinglin), Principal. She is very determined and has a way to make you feel like you are very capable. She has been pushing me to take up coaching from the very first day I registered my son at the institution (Corinaldi Primary) some three years ago. She signed me up for courses and always pushes me to take a chance at calling the shots on the sidelines, though for a brief time.
At 29 years old, Carey says the worldwide pandemic, which has crippled everything, has "hindered and hampered" his bid for taking up coaching fulltime as he has been unable to complete his CONCACAF D license coaching programme. "It has also stopped the playing of football, slowing down my career as a player," he said. "Covid -19 has also left me jobless," but on a positive though, he says he has been given the opportunity to spend more time with and around his family.