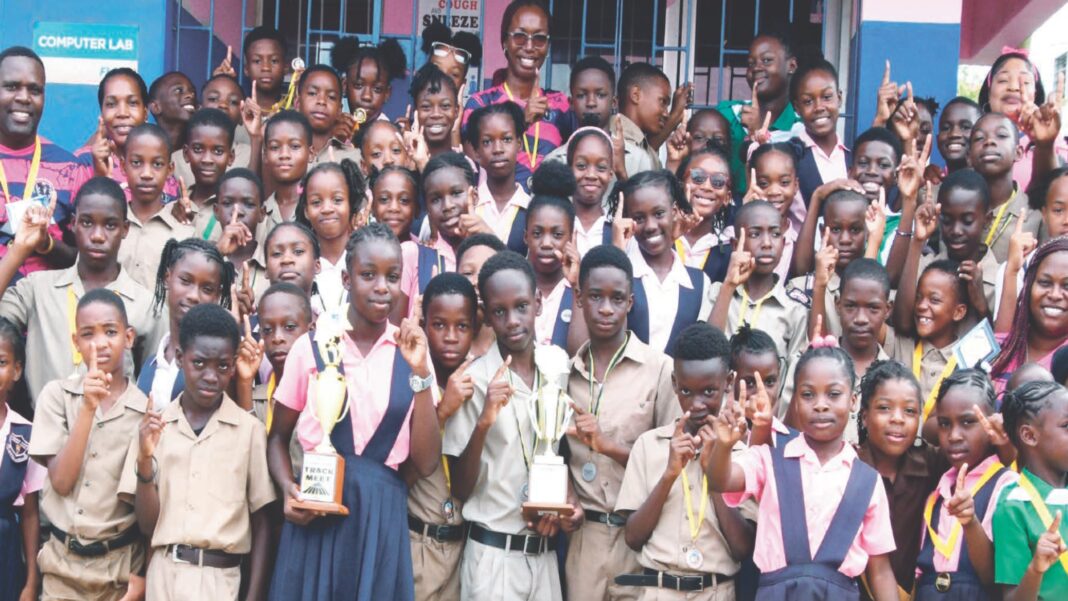 Corinaldi Avenue Primary lived up to their mantra 'Home of Champions' when they waltzed into St. Elizabeth and strolled away with the INSPORTS Western Primary Championship, winning back-to-back titles.
Both the male and female teams stood tall, with the latter totaling 103 and the males 105 points. Corinaldi amassed 208 points overall
Corinaldi took over the lead late on Friday and never looked back as they strolled to the title success by a 36-point margin, which was cemented by a heavy downpour.
The well-marshaled squad, directed by Sports Coordinator Shanique Thompson – Watson assisted by Omroy Kerr, were lifting the title for the first time without outside (professional) assistance; and for a beaming Watson, "It gave us a delightful feeling, kudos to all my coaches and support staff."
"It's really a spectacular feeling, this particular title, we defied the odds, the athletes dug deep, worked tirelessly and they listened and carried out the instructions of the coaches, they really understood the plan we had designed, going into the championships."
"The squad did not dominate as we probably would have wanted or even anticipated, but the athletes were empowered by a diligent staff with everyone knowing their responsibilities and carrying them out effectively, Thompson-Watson told the Western Mirror, we came together as a unit, we knew what we had to do and what was at stake and like I said it was really a great feeling when at the end of it all, we came out victorious. But still, there is more to come and now we must start making plans to again defend our crown."
Corinaldi, along with the other top place finishers, will now turn their attention to the Nationals set for the National Stadium starting May 25th.
Barracks Road, who amassed 86.50 points, finished 9th in the standings while former champions Wakefield Primary was down the pack, rounding out the top 10 with a total of 67 points. Flankers Primary and Junior High finished 18th with a tally of 24.50 points.
Meanwhile, Howard Cooke's Veneisha Pottinger and Oneila Grant of the champions, were among the top three class 1 female athletes at the end of the championships. Pottinger tallied 15 points for her team, while Grant amassed 14.