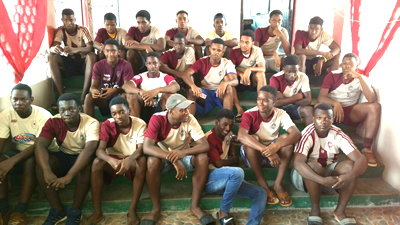 Noelita Lawrence – Staff Reporter
With hoisting the title a distant memory, former two-time champions Herbert Morrison Technical High will be hoping for a good showing when this year's annual DaCosta Cup Schoolboy football competition gets underway.
'Compre' – as the Bogue-based school is affectionately called – has not won the D'Cup in more than two decades and with non-traditional schools now vastly improved, teams are now jostling even more for accolades.
Once again under the guidance of Coach Leacroft Lettman – a man who has won the competition as a player – 'Compre' is at least this year aiming to get out of the first round and into the inter zone.
"'Compre' is in the rebuilding phase and we will be hoping for at least qualification to the inter zone round, then wecan take it from there," Lettman told the Western Mirror.
"The team is a very young one, but we have a few players with experience and some with just raw talent, so we should be able to hold our own and win some games," he added.
The Bogue school has been seeing a lot of on-field preparation in the buildup and Lettman is adamant his troops "will give a good account of themselves."
"We are a confident bunch; we've been together now for a while and we know what we can do. We know what we are capable of and we expect to cause a few surprises; you can count on that," added the coach, following one of his intense training sessions at the school's playfield.
"Our preparation – which started back in July – has been going really well. The boys are putting in the work in training, because we are really targeting a good showing."
"We are likely to be the wildcard in the group; we will definitely surprise a few, while hopefully producing eye-catching performances," he further added.
The maroon and cream clad institution will be banking on a host of players to lift their standard and turn games for them during the competition, namely: Matthew Thorpe, goalkeeper, David Gordon, Richard Thompson, Samuel Reid and Solano Birch.
Lettman revealed that those players – who have been a part of the team now for the past three seasons – will carry the burden, with Birch, the speedy Thompson and Thorpe to be the focal point of the team's attacking thrust.
Although filled with good attacking players, the squad is adamant that their strength lies in their defense, which includes some solid players who are also good readers of the game.
PLAYERS IN AND OUT
The team – which fell short of expectations last year – has seen a few key players exit the school. However, they have managed to retain seven players from last year's overall squad – six of whom were starters.
The squad has also seen a player from rivals Cornwall College come in, one Andre Bowen. He is expected to add some experience and do well.
Despite their confidence and their hopes for a progressive season, 'Compre' has been hit hard, with solid defender Tremaine Simpson and Brandon Curate along with Giovanni Scale all leaving for other institutions.
Simpson – a standout – has joined the ranks at Cornwall College; Curate has swapped for the red and gold of Cornwall College while Scale is now on the roster at Green Pond High.
'Compre' players are said to be at 45-55 percent in readiness and have played a series of friendly games while also participating in a parish competition.
'Compre' played games against both Manning and da'Costa Cup oppositions, getting favorable results.
'Compre' won 4-0 against Cambridge; lost 4-1 to Calabar; beat Manning's School and Frome Technical 1-0 and 2-1 respectively, while being beaten 2-1 by Lennon and St. Georges, respectively, during their participation in the Georges Cup held in Kingston.
HERBERT MORRISON TECHNICAL HIGH WON THE D'CUPIN 1986 AND 1988.
They have been paired with Cedric Titus, Holland High, Muschett, Spot Valley and William Knibb.