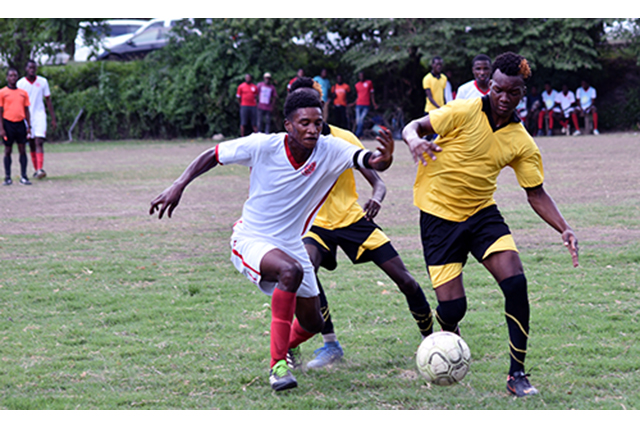 Noelita Lawrence-Ricketts
Cambridge's impressive stroll in the St. James FA's Sandals Resorts International Under-20 Football Competition has continued following an efficient 2-1 victory over the previously in-form Flanker at the UDC field.
The prolific Shaquille West and Okeeno Allen struck the back of the net for Cambridge as they won the battle of the top two and opened up a solid four-point advantage with two rounds of matches to go.
Cambridge roared to a fifth win of the campaign, netting 13 goals in the process, while conceding three.
In a robust and very physical contest which saw some reckless challenges, especially in the middle of the park, both teams battled to a 0-0 draw in the opening 40 minutes which yielded four yellow cards, two for either side.
Cambridge settled quickest and were by far the better of the teams, but were not lethal when in front of goal.
The red and white-clad team turned their domination into goals and broke the deadlock four minutes into the resumption through the speedy West.
West, darting down the right flank and eluding the tackles of three defenders, unleashed a thunderous left foot shot which crashed into the corner of the net, stunning the Flanker faithful and quieting the very vocal supporters.
They were further ahead 17 minutes later, widening their advantage to 2-0, this time through the dangerous and fleetfooted Allen, who darted down the middle, getting on the end of a defense-splitting pass, to slot home the ball on the run across the goal against the sprawled Flanker keeper and a well-beaten defender.
Chances came and went for the Cambridge team well in control of the affair, before they allowed a late goal to their opponent.
Eighty-four minutes into the contest, a long ball over the top to be cleared by the Cambridge team was allowed to bounce, and the Flanker player capitalized on the miscommunication, darting between a defender and the stand-in goalkeeper to put the ball into the net, cutting the deficit, but it came a little too late.
Meanwhile, Bogue temporarily missed out on the chance to go into second spot after their showdown against third-from-bottom Norwood FC was rained out.
The teams had been locked at 0-0 seven minutes into the resumption when a heavy downpour forced the players and officials off the waterlogged field.
Sanjay Patterson twice had the chance in the opening 40 minutes to send Bogue ahead but missed, once when put clean in on goal.
The Norwood keeper was also called upon to make three outstanding saves early on, once diving full stretch to his left to deflect a goal-bound shot around the post for a corner kick.
Bogue who occupy third spot on 11 points, just one behind second placed Flanker and five off the leaders, created and wasted several good scoring chances in the first half which they dominated.