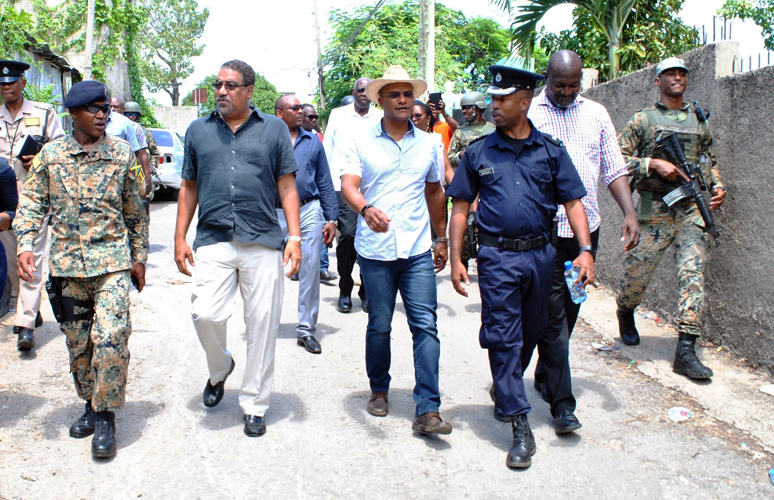 Michael Nattoo – Staff Reporter
On Wednesday, as members of a delegation headed by the Opposition's Spokesperson on National Security, Peter Bunting, made their way through sections of the ZOSO-impacted community of Mt. Salem, the celebration among residents, who trickled onto the once vacant streets, seemed to contrast the life most appeared to be experiencing beyond the zone.
"We feel restricted – like caged birds," one female resident of Piggott Street told the Western Mirror. "Yeah, it's nice to see police and soldiers here, but we can't really move about as we want to," she added, citing that she was not sure if this level of restriction was common in these kinds of operations. "I'm not used to this, we are not used to this, so it's a little challenging to adjust to it," she concluded, before retreating to her stall perched on a section of the hilly terrain in that community.
Another resident, who observed the many media personnel flocking the mix of delegates and residents, chimed in: "With all of this now happening, and all the attention we're getting I hope we can get… the infrastructure – our own light, water, proper drainage, and all of that."
This was a sentiment expressed by many other the residents who filtered from their homes onto the streets, eager to get their voices heard. As another community member would express to the Western Mirror, after almost two weeks of ZOSO, not much has been reasonably done in the way of social intervention – one of the pillars of the intended 60-day operation.
"Weh di intervention deh? All dem a do a shut we down! Mi nah see nutten a happen," the man, who appeared in his mid-twenties, said. When asked to explain what he meant, he revealed that since the declaration of Mt. Salem as a Zone of Special Operation, he has seen little, if any, tangible social change. "We can't even get the Comfort land," an area in Mt. Salem that the government has been trying to regularize, "and if you look, all 'bout di place, di zinc dem still put up, and people who deh ya fi years still nuh have no title fi dem land. Weh di intervention deh in a dat?"
NO LEISURE ACTIVITIES
His concerns were not lost on the crowd, as a notable roar of approval could be heard among residents who were close enough to hear him. When quizzed as to whether or not he believed ZOSO remains relevant in his community, despite the misinformation which aided in its 'clampdown', he had this to say: "Well, with wa did a gwaan 'bout di place, something had to be done," he explained. "Wid the heap a violence, something had to be done, but we need better results." He additionally explained that he feels restricted too. Normally on weekdays, he would meet up with friends to go play a game of football, but since ZOSO, it has been especially difficult for the youngsters in the community to congregate for leisure activities. And, without an outlet to process the stress of the Zone, youngsters have been left to find other outlets, which he feels may be counterproductive to the security forces' efforts.
"When di yutes dem don't have nowhere fi go and nutten fi do, what you think ago happen?" he asked, as the delegates continued their chauffeured march throughout the town, accompanied all the while by a joint force of JDF and JCF personnel.
Despite the general undertone of discontent by residents, some felt that since the introduction of ZOSO, life has markedly gotten better for them. Speaking to a resident along Crawford Street, she said that she feels safer, and that the work being done is commendable. "Mi nah lie, since dem come here, a lot of things cooled down. One time, everybody used to paranoid, and did affi a sleep wid one eye open, but since ZOSO, we nuh affi do dat." She noted that most of the criminal elements removed themselves from the area for fear of being caught, but wondered about what life would be without the safety net of the sustained presence of security personnel. "Afta dem gone, mi think everything ago return to normal, but for now, we appreciate it," she concluded.
VIOLATED
Although Prime Minister Andrew Holness, on Tuesday, reported that there have been no abuses so far with ZOSO, there are some residents who feel that they have been violated at some of the checkpoints. One resident's experience contrasts some of the views expressed by PM Holness.
"I have never been treated so badly by anyone in the security forces; I was made to feel like a criminal. I did not spend thousands of dollars at university to be treated like a criminal! I have no complaints about the soldiers; they have been courteous and patient," the Mt. Salem resident told the Western Mirror. Her unfortunate experience, after intending to gain entrance to the community on her lunch break from work, saw her being allegedly yelled at and harassed by a contingent of JCF officers, and was told that even though she had presented her ID earlier, which she had left at work on her lunch break, she would not be allowed entrance. This, after explaining that she was told to present her ID only once per day.
Although the frequency of these incidents was not confirmed, an interview with Angela Brown-Burke, revealed her concerns for the residents of Mt. Salem.
"There are a few concerns about how we got to the point of choosing Mt. Salem for ZOSO," she began, "but since we are here, we want to encourage persons to continue being cooperative, and I also implore the joint command to conduct their responsibilities professionally, above reproach, and above board."