Sashane Shakes and Onel Bailey
One senile, one dumb
While many celebrated happiness and togetherness and brought cheer this past Christmas, two communities in the parish of Hanover have been in unrest since Christmas Eve as two elderly men went missing two days shy of each other during the recent Christmas holidays.
Missing are Osbourne Leslie of Haughton Grove, Hanover and Lennox Stone of Esher in Lucea. Septuagenarians, Leslie, 74, and Stone, 70, went missing on December 24 and 26 respectively.
Stone, who went missing on Boxing Day, is 5 ft 6 inches, slim built and is of a dark brown complexion.
He was spotted by a taxi operator who glimpsed him walking along the roadside en route to Lucea around 5 a.m. on December 26, wearing a plaid shirt and brown shorts.
Upon hearing of his father's absence, his son, Kirk Stone, has flown to Jamaica from New York to assist in the search. "It's been crazy. I'm printing flyers and putting them all over the place asking everybody if they've seen him. I'm running around looking for him like a chicken with its head cut off," said the younger Stone.
Kirk, however, is particularly concerned about his dad because he's senile. "It's been seven (7) years since he's been senile, and from that day he's never been left alone," said Kirk.
Kirk remarked that stoves and other household appliances were removed from Lennox's house years ago after it was found that he would leave the fire on and forget to turn the stove off.
Lennox is the lone occupant of his residence, where his son left him in the capable hands of Faye, his neighbour and caretaker, and with a memory that comes and goes in glitches, the able-bodied Lennox is usually accompanied to the supermarket, barber salon and to the bank to collect his pension.
Christmas Visit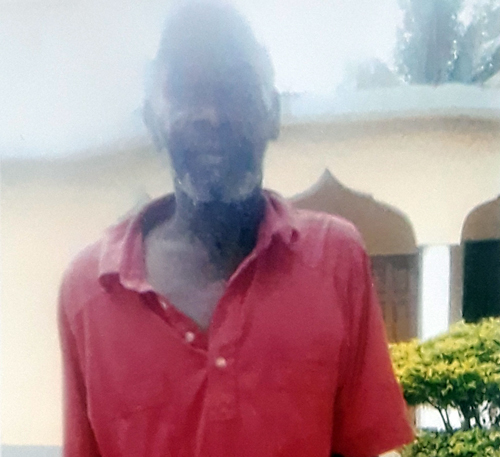 According to Kirk, on the eve of Christmas Eve (Sunday December 23), Lennox was paid a visit by his sister, Dawn Gordon, who was visiting from Florida. After his sister left, Lennox told Faye that he wanted to "visit her one of these days". Kirk has surmised that his father went to the old family house in Lucea (per the report of the taxi operator) but after realizing that the building had been abandoned, he began his trek home and forgot his way.
The entire community of Esher has rallied together in search of Stone.
In another area of Hanover called Haughton Grove, the family and friends of Osbourne Leslie have been searching endlessly for him since Christmas Eve. Leslie, who is affectionately known as 'Boy Boy', had a stroke in his head two (2) months ago, which rendered him dumb.
He was last seen leaving home in a white merino and white shorts, presumably heading to a nearby shop in his community.
Leslie is 74 years old, about 175 centimetres tall and is of dark brown complexion
"Me give up, me no know which part fi search again," cried Elaine, who is the sister of Leslie's niece. "Him a quiet smaddy, him no mek trouble and the young people them love him. We just want him come home."
If anyone has seen or heard from Osbourne Leslie or Lennox Stone, please contact the nearest police station.