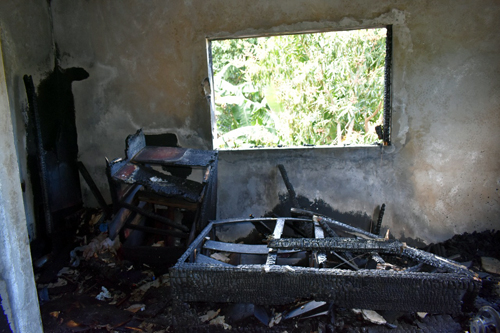 On Sunday, January 19, as family members of a Rosemount Gardens home watched all their belongings go up in flames, their most prized possession, a three-year-old boy, was still stuck on the second floor of the rapidly burning building.
After being prompted to jump, the infant unfortunately collapsed due to inhaling too much smoke, and instead fell through a window. He was miraculously caught by waiting family members, who are now counting their blessings, despite incurring some 12 million dollars in losses as a result of the blaze.
Information reaching the Western Mirror is that the fire started as a result of the infant getting a hold of a lighter. He was reportedly under a bed playing with the fire-producing device, when things went awry, causing a fire that rapidly spread throughout the dwelling. The flames quickly separated the other occupants in the house from the young child, which later resulted in the nail-biting ordeal of catching the unconscious infant's body from a window.
Despite the infant being administered CPR and rushed to the hospital, the signs are promising that he has not sustained any major injury, much to the relief of family members.
FIRE QUELLED
For the incident which started some minutes after seven that Sunday, the Fire Brigade was quick on the scene, after reporting that they received a call that a building was on fire in that area. They responded with two units and an ambulance and upon their arrival, they observed a section of the upper floor of the building ablaze.
An operation was quickly started and two jets were used to contain the blaze, preventing it from spreading to the other over 30 rooms of the family-shared concrete dwelling.
It is uncertain if the house was insured.
The Fire Brigade continues its investigation into the matter.
SB