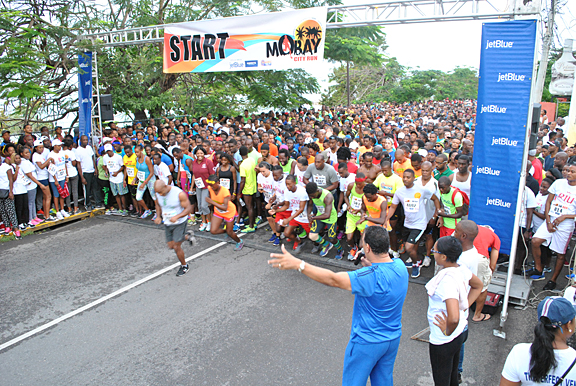 When the dust was finally settled at the 4th staging of the MoBay City Run on Sunday, Kirk Brown, representing Wards Power Tools, was named the male 10k winner while his teammate, Dwayne Graham, copped the 5k title.
Defending champion Chris-Ann Lewis, running under the Rainforest Seafood umbrella, was once again crowned the 10k female winner.
Young Conrad Daley Jr. and Samantha 'Pumpkin Pie' Collie topped the 3k Boy and Girl sections respectively, while it was Dwayne Graham in the 5k Men and defending champion, Juliett Dinnal, in the female category that were also in the winners' circle.
This is also Dinnal's second time as 5K champion of MoBay City Run.
"I am very happy to have been able to win my section again this year," a very excited Dinnal told reporters. "I won last year in my first attempt and so I am hoping that next year it will be three times the charm."
Dinnal and her counterparts took home several prizes including JetBlue Airways Travel Certificates to any destination that they fly to from Jamaica.
10k winner Lewis, was no less ecstatic. "I enjoyed myself last year and am feeling even better today," she quipped.
The winners outpaced more than 3,600 runners and walkers who descended on the streets of Montego Bay, Sunday, May 7 for the increasingly popular event.
LOUD ROAR
The charity event, which provides scholarships for needy tertiary students across Western Jamaica and, for the first time, included a 3k section for children 12 years and under, officially kicked off at approximately 6:10 am from the Old Hospital Park, Gloucester Avenue (Hip Strip), to a loud roar from the sea of participants.
For his part, Mayor of Montego Bay, Homer Davis, who was also amongst the participants, said he was pleased with the turnout and that an event such as the MoBay City Run was a welcome respite from some of the problems which have been plaguing the tourism capital.
"Almost every sector in the Montego Bay business community was represented here today which by no means is an easy feat to pull off," Mayor Davis remarked.
Again, RIU Resorts, with over 559 participants from their six resorts on the island, walked away with the top Corporate Challenge prize, with Scotiabank and Itel BPO, placing second and third respectively.
Supported by the Jamaica Hotel and Tourist Association (JHTA), that organisation's president, Omar Robinson, said the big winners were the students, some of whom will now be able to get some much-needed assistance to continue with their courses.
Platinum sponsors, Unicomer Jamaica (trading as Courts) said the organizers must be "warmly congratulated" for orchestrating yet another successful staging.
According to Brand Manager, Jacqueline Edwards-Locke, "Unicomer Jamaica prides itself on supporting education which is evidenced by the 30-year commitment that Courts has made by awarding a total of 1510 scholarships of excellence to date.
"The Mobay City Run team is playing a crucial role in securing a better life for many of the less fortunate in Jamaica by providing well-needed scholarships."