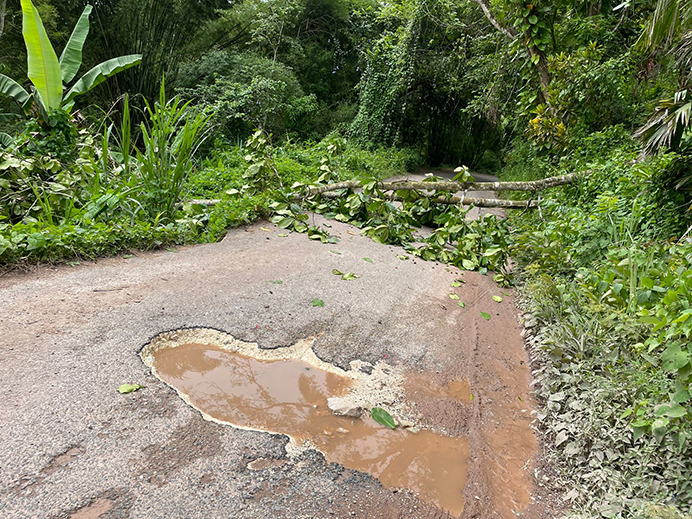 Hundreds of commuters were left stranded and motorists were forced to seek alternative routes in sections of Eastern Westmoreland on Monday, as angry residents mounted roadblocks along sections of the Retrieve to Marchmont road to vent their frustration with what they described as the deplorable condition of the road.
The group of fuming protestors fell a number of large trees, which they used to block sections of that roadway and adjoining roads in Seaforth Town and other areas in the constituency as well as roads leading from neighbouring Belfont and Catadupa in St. James.

They argued that they are totally fed up, having to cough up thousand of dollars to repair their cars' front end and effect other repairs to their motor vehicles.

"We are totally fed up and disgruntled with these conditions, just two months ago I had to buy parts and repair my car's front end and just last week I had to do the same and the parts are not cheap, I can't manage this anymore" said a resident known only as 'Alice'.

Another resident, 'Marion' said "You know the situation is so bad that a young biker lost his life when a car swerving to avoid a pothole hit the bike and it crashed into a utility pole. That's the extent of how bad the road is".

A motorist said the situation is untenable and they will not put up with it any longer.

"This is not a road; this is a disaster. There is nowhere on this strip to drive, pothole all over, this caaan patch, it haffi fix. Wi need curb an channel, bushing all a dem suppen deh. We don't have any MP or councillor because nobody cares about us. A wicked people them", argued 'Lorna.'

Meanwhile, former member of Parliament, Luther Buchanan and the incumbent Daniel Lawrence have drawn the ire of the disgruntled residents who argued that they keep hearing that money has been allocated to effect repairs to the roadway but nothing has been done.

"It was from Luther time the road bad and wi hearing that money allocated and now with this new man, we nat seeing him, he has not responded to us. Every fifteen chain you can raise fish. This is not fit for walk foot. Just recently the community lost a valuable young man due to accident. This was a valuable young man to the community," explained Courtney Gaynor a resident.
Barrington Flemming -Staff Reporter