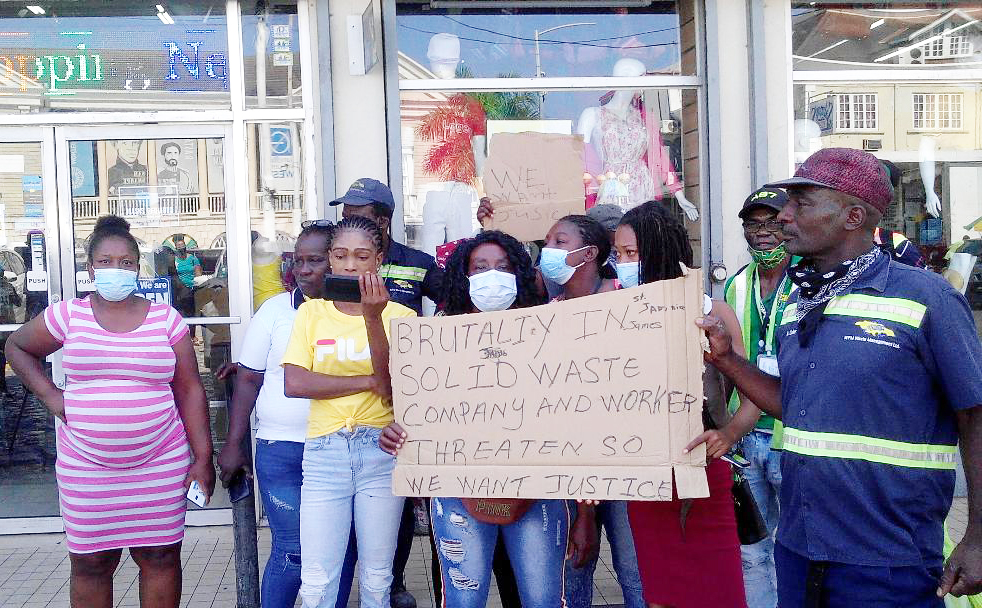 Barrington Flemming
Staff Reporter
The Administration of the National Solid Waste Management Authority, Western Park and Markets will be convening a meeting today with sanitation workers in a bid to quell rising tension among that group of workers some of whom took to the streets on, Monday and again on Tuesday to vent their grievance with the management's decision to further cut their work hours.

The workers, who demonstrated in Sam Sharpe Square, Montego Bay on Tuesday, and are paid fortnightly, argued that the management had previously advised them that due to COVID -19 there would be a reduction in their hours, so as to allow all staff to remain on the job and they agreed.

They, however, said they were verbally advised that management intends to further reduce their hours from 80 to 40 hours and they will not stand for it, as they mounted placards calling for justice.

One female sanitation worker related:
"Dem seh because of COVID dem cut the hours from 120 to 80 because they don't want to fire anybody suh we agree. Now dem waan cut it down to 40, but that caan happen we caan sekkle fi dat so dat, is why wi out here now. Suh because dem nuh sen nobody home dem waan fi use dat fi abuse wi."
A male worker, who was equally concerned, said it was a bad move because they would not be able to survive with such a drastic reduction in pay.

"We caan work fi only 40 hours fi di fortnight. Wi have bills fi pay and other things fi deal wid. Di people weh work a market fi dem money nah cut."

Meanwhile, Garnet Edmonson, Regional Manager of the NSWMA, Western Parks and Markets explained that the workers who are disgruntled over the company's planned cost saving measures due to the continued effects of the COVID -19 pandemic acted too quickly by mounting a demonstration before the management could speak to them about the agency's plans.

"We have always maintained that before we put in place a policy, we discuss it with the staff and then we come to a mutual agreement, however somehow they heard of a policy that we are going to put in place and acted. Generally, we would meet with them have a dialogue as to us agreeing on the way forward, they did not wait on that dialogue, they took to the street, Edmonson said.

He explained further:
"This is just a small proportion of 500 workers -just 20 in the town centre, as I have said to them all companies are faced with COVID now. The government is no exception to that. So, in order to keep everybody working we all have to devise strategy and ways to live during this COVID and even a little bit beyond because we don't expect the world to come back to what it used to be immediately. I assure them that we will meet with them and attend to their queries and concerns."