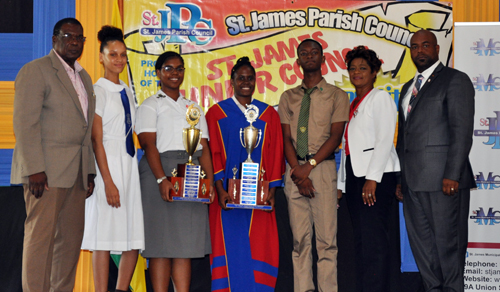 Eighteen-year-old Montego Bay Community College student Sandrine Morris is the new Junior Mayor of Montego Bay.
Ms. Morris, who is a second year Arts student, copped the title ahead of Angelique Pinnock of Montego Bay High and Kingsley Clarke of Harrison Memorial High School. By virtue of their placing, Ms. Pinnock was declared Deputy Junior Mayor, while Mr. Clarke was appointed the Chief Executive Officer of the Junior Council.
All seventeen Junior Councillors will now form the 2018/19 St. James Municipal Corporation's Junior Council which last year was headed by Suzanna Hyde of Mount Alvernia High School.
The Junior Mayor, Deputy Junior Mayor and Junior CEO were selected following oral presentations on topics relating to the ongoing State of Public Emergency as well as the Primary Exit Profile (PEP).
Following her inauguration, the elated new Junior Mayor of Montego Bay, who hopes to pursue a career in Law and Political Science said, "I am overjoyed! This is a dream that I have had for a long time and, yes! After a tough competition, I am happy to be given the honour of leading the 2018/19 St. James Junior Council. I plan to give this new role my best shot and to work closely with my fellow Junior Councillors in taking the Council to higher heights."
In paying tribute to her immediate predecessor, Suzanna Hyde, Junior Mayor Sandrine said, "Miss Hyde has given the Junior Council exemplary leadership and has led from the front.  I know she is a hard act to follow, but I am prepared to give of my best and with the support of my fellow Junior Councillors and the St. James Municipal Corporation, I am sure this new administration will be very successful".
Chief Judge for the Montego Bay Junior Mayor Competition, Lisa Golding, before announcing the results, congratulated the students for the great job they did in researching the topics on which they presented. She stated that because of the focused approach which every student took in preparing, the competition was extremely close and anyone could have been crowned Junior Mayor.
Mrs. Golding, who is the Integration Manager at the Urban Development Corporation, UDC in Montego Bay said, "you have done extremely well in researching for this competition. Your presentations were great and I must congratulate you all for being wonderful contestants. The truth is any member of this fabulous group of student could have been crowned the new Junior Mayor which makes you all winners. I know you all will serve this city well in your new roles and I look forward to great things from this new administration."
The other Judges were Allaine Harvey, Community Relational Manager at the Jamaica Public Service Company-Western Region and Steffon Campbell, Lecturer and Coordinator of CARIMAC at the University of the West Indies, Mona – Western Jamaica Campus.
Meanwhile, guest speaker at the ceremony was President of the Lay magistrates' Association of Jamaica – St. James Chapter, Claudette Bryan, who encouraged the participants to strive for the highest integrity in all their endeavors.
Mrs. Bryan who also serves on the national committee of the Lay Magistrates' Association of Jamaica, challenged the Junior Councillors to give of their best at all times and to ensure that their footprints are left on anything that they do or are involved in.
The Junior Mayor competition which forms part of activities to mark Local Government and Community Development month 2018 and the granting of City status to Montego Bay 38 years ago, is designed to stimulate the interest of young leaders in the parish of St. James in governance, particularly at the local level.
Participants are drawn from the 17 political divisions in St. James, along similar lines of the St. James Municipal Corporation, with a division being assigned to each Junior Councillor.
The schools which were represented this year are Montego Bay High, Cornwall College, Harrison Memorial, Herbert Morrison Technical, Green Pond High, St. James High, Irwin High, the Montego Bay Community College, Maldon High, Anchovy High and Cambridge High.