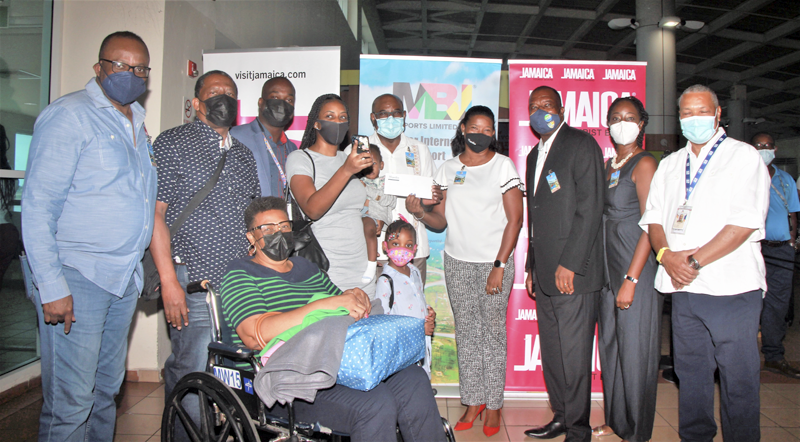 Minister of Tourism, Edmund Bartlett, was on hand at the Sangster International Airport in Montego Bay to welcome the one millionth stop over visitor into the island on Sunday. 

Minister Bartlett, who was joined by a throng of the higher ups in the tourism industry, welcomed to Jamaica, Daynel Williams, a Jamaican-American traveler out of New York. Williams, who was accompanied by her parents and her two children, was showered with gifts and compliments following her arrival at the airport.

Williams, who was heading to Oracabessa, St Mary on her vacation, was quite elated and remarked that she was "very happy" to be the recipient. Her mother, Jennifer Williams, said she had been coming to Jamaica for 30-years and never experienced anything like this before. Mrs. Williams cried tears of joy following the gracious welcome.  

Minister Bartlett highlighted that Miss Williams' arrival was part of history as this marked the fastest that Jamaica had reached this landmark of one million stop over visitors.

"So, today is a milestone achievement, never before within a year and a month, have we ever had one million stop over visitors coming to our country. When we accumulate stopover and cruise visits, the record is significant because it took us close to twenty years of recording numbers to reach the first one-million of both cruise and stopovers," Bartlett stated. 

The arrivals of these visitors during the period, he noted, has led to significant boost in the earnings for the country. "The achievement of these million visitors means that we have now generated, since the re-opening on June 15th, 2020, a little over USD $1.5 billion of foreign exchange earnings," the Minister disclosed. 

This he notes, is quite a significant turnaround, as in March, 2020, tourism arrivals went flat as the borders were closed because of the pandemic. "To have it done in a pandemic makes it even more stellar when there is so much uncertainty, little Jamaica came out in a year and one month with one million visitors," he noted.   

However, he said this is just the end product of a strategic plan involving robust protocols that has borne fruit. "I'm proud of the responsibility that tourism assumed in the process, because we were the first to introduce the notion of protocols and then we went for consultancy support to help us develop the most robust set of protocols that within a month of completion, the World Travel Tourism Council had Jamaica as the third country in the world to get the safe travel seal because of the protocols we had established."

The protocols, he said, included training for staff, the procurement of personal protection equipment and also sanitization equipment which were distributed sector wide.  

The Minister is hopeful that by the end of the year, the country should see a combined 1.8 million stop over visitors between cruise and air.
Noel Thompson Shamir Brown