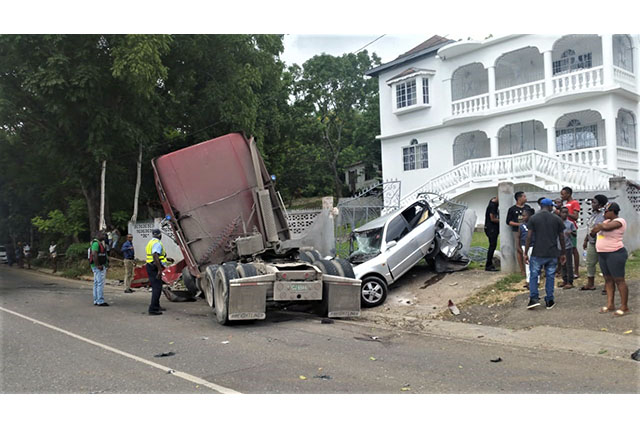 Michael Nattoo – Staff Reporter
Police-mounted roadblocks, multiple vehicles destroyed in a car chase, and men firing high-powered weapons at the police from an out-of-control Freightliner truck may all sound like parts of an action-packed Hollywood script, but it is the sum of events that led to the arrest of four men on drug-related charges, after they were chased along the Water Wheel main road, Cave district, Westmoreland, last Tuesday.
In that dramatic anti-narcotics operation, the police seized 1,300 pounds of compressed ganja, which was divided into 170 parcels of the illicit drug.
HOT PURSUIT
About 1:40 p.m., according to reports, a Freightliner truck, which was suspected to have been carrying the illegal drug, was signaled by the lawmen to stop.
Ignoring the commands of the lawmen, the truck sped off, which resulted in a dangerous high speed chase on the busy roadways. The hot pursuit of the lawmen was kicked into high gear when, in an attempt to slow down the rampaging truck, a roadblock was mounted by officers who responded to the urgent situation. Almost immediately, however, men aboard the speeding truck unveiled high-powered weapons, and opened fire on the supporting lawmen, who luckily escaped that ordeal unharmed.
Other officers, however, who were in a Toyota Voxy motorcar, were not as lucky, as their vehicle was rammed into by the truck, after the driver began using it as a weapon by attempting to mow down the officers, according to reports. Those lives would not be the only ones endangered by the reckless driving as, in another attempt to elude the lawmen, the truck crashed into an Isuzu motor truck, significantly injuring its occupants. The truck then crashed into another vehicle – a Toyota Camry motorcar.
It finally came to a halt after running into a perimeter fence. Its occupants, however, were not done trying to escape.
The driver of the truck, in addition to three occupants, quickly exited the completely totaled vehicle, and began another episode of cat-and-mouse. They were ultimately chased and caught by the lawmen, and were taken into custody. Their identities are being withheld pending further investigations.
A search of the truck revealed the exorbitant amount of ganja, disclosed earlier, that was on board.