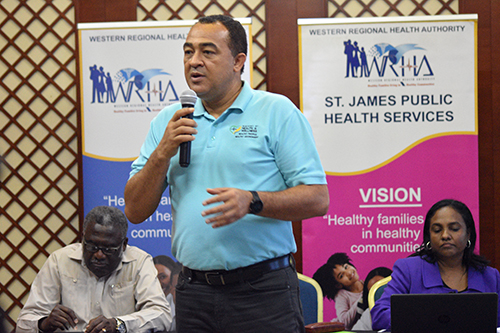 With a rapid surge in the number of cases of the Coronavirus in Jamaica, Minister of Health and Wellness, Dr. Christopher Tufton, is urging employers in the private sector not to penalize staff who may present with symptoms of the Coronavirus with the normal laws of sick leave and pay as it now prevails in the workplace.
Minister Tufton was speaking at a press conference hosted by the Montego Bay Chamber of Commerce and Industry, in conjunction with the Ministry of Health and Wellness, at the Montego Bay Convention Centre on Friday. He said this is one matter that he would be seeking to have addressed at the governmental level.
"There is an issue which will have to be worked out as it relates to compensation – employee compensation and what it means. There are some things that we have to do at the national government level in terms of reviewing some of the laws and determine if we are to trigger emergency powers, which could be the case depending on how we deal with this issue – something we could use policy to determine," he said.
He says employers should see the benefit or the value of persons having the symptoms and staying home and not penalize them under the normal laws of sick leave and pay, as it is an extraordinary time.
Minister Tufton said while the Coronavirus was not a death sentence, people should take the prescribed measures outlined by the local health authority and World Health Organization for sanitizing and care.
Meanwhile, the health ministry is moving to increase the number of beds available at the three isolation centres established across the island by drastically reducing the number of non elective emergency services offered.
Dr. Dianne Campbell Stennett, Regional Technical Director of the Ministry of Health and Wellness, who also spoke at the press conference, says due to operational changes and the anticipated need for additional bed space, this will become a necessity.
"We had at the initial stage three isolation rooms – currently as I speak – looking at going to have over 50 beds and based on operational changes that we have to implement, we will be reducing non-elective emergency services to create additional capacity – it is the same approach we take for natural disasters," she said.
Dr. Campbell -Stennett said the necessary protocols have been established to ensure the early discharge of patients and to admit those who would be coming in for isolation.
She said since March 4 and up to Friday, 72 persons were processed at the Sangster International Airport, 18 were refused, 54 landed, nine have been placed on home quarantine and 45 have been placed in national quarantine or isolation.