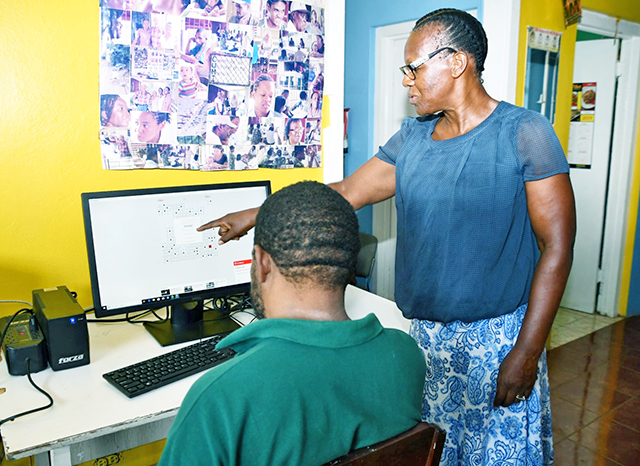 In the quiet enclave of Brandon Hill, St. James, lies the Committee for the Upliftment of the Mentally Ill's (CUMI) Rehabilitation Day Centre.
The two-storey building looks like any other in the residential community, with the grounds surrounded by mature trees and vegetation, providing a sense of calm and assurance for clients that members of staff of the facility are there to help.
As such, it comes as no surprise that CUMI has rehabilitated over 4000 mentally-challenged persons from St. James and its environs since its inception 28 years ago.
Nurse Administrator at CUMI, Joy Crooks, in outlining the genesis of the organisation, tells JIS News that in 1991, a group of concerned citizens were called together by then Mayor of Montego Bay, Arthur Gilchrist out of concern about the large number of homeless persons on the city's streets.
Nurse Crooks, who is a psychiatric nurse by profession, notes that among the homeless were several mentally-ill persons, who had come to Montego Bay to seek treatment but ended up on the streets.
She says that the group's first initiative was a feeding programme and out of that effort, it was discovered that two thirds of the homeless were persons of unsound mind.
It was on this basis that CUMI was formed as a registered non-profit, charitable foundation and the Brandon Hill centre, donated by the local authority, opening its doors in August of that year to provide a programme of community mental health care.
In carrying out its work, CUMI has forged partnerships with the Poor Relief Department, the Cornwall Regional Hospital psychiatric department, St. James Type Five Health Centre and other community clinics, mental health officers and other health professionals.
"We link the needs (of mentally ill clients) with other agencies and in the meantime, we deliver the service of mental health rehabilitation," Nurse Crooks says.
"We sign the persons, who need clinical services on to clinics, and open every day to provide them with a facility where they will be able to rebuild their life-coping skills. That is, looking after themselves – bathing, washing (their) clothes, everything they need to do," she points out.
She says CUMI also ensures that persons take their medication as prescribed.
Nurse Crooks tells JIS News that clients are referred to the centre by the Poor Relief Department, they come into the facility on their own, or are brought in by concerned relatives or loved ones.
After doing an evaluation, persons are signed on to a community clinic, after which the Poor Relief Department comes in to provide social assistance or link the patient to another entity such as the Programme for Advancement Through Health and Education (PATH).
REUNITING FAMILIES
As part of measures to ensure the sustainability of the treatment, CUMI has started a programme to reunite clients with their families.
"We use the media in whatever way we can or volunteers to go into the communities to find these relatives," Nurse Crooks says.
She tells JIS News that effort is made to connect relatives to Food for the Poor or the poor relief system, as it has been found that one of the reasons why relatives abandon the mentally ill is because they, themselves, need social support.
"So, we get whatever social help is needed to assist them with the understanding that they, in turn, need to help the person with the mental illness to get them back into their community setting," she notes.
She says that Food for the Poor has come on board to construct houses for persons, who have been rehabilitated. Seven houses have been built so far.
"As long as they have land space and can justify how they got it, we apply for houses from Food For the Poor, which are built with the help of churches and civic groups," she notes.
Other initiatives by the centre to help patients work their way back into society include a Computer Learning Project, which started this month through equipment donated by the Tourism Enhancement Fund (TEF). The centre also stages current affairs quizzes to keep mentally ill persons stay alert and "in the know."
Persons, who have been rehabilitated through CUMI, maintain a connection to the rehabilitation centre, with some even finding employment there.
FREDERICK KELLY'S STORY
One such person is Fredrick Kelly, who was homeless for 10 years, and now works as a messenger.
He is charged with paying bills, collecting items and undertaking other errands.
Mr. Kelly tells JIS news that he is grateful to CUMI for ensuring that he "moves forward and not backward" in his mental state.
"They make sure I take my tablets. It is a good organisation and I would like it to move forward. My favourite thing about working at CUMI is helping to keep the place clean and (going to) pay the bills and so forth," he notes.
For her part, Inspector of Poor for St. James, Pauline Lecky, commends the work of CUMI, noting that the rehabilitation programme has been effective.
She notes that the Department refers persons to the facility, who visit shelters in the parish on a daily basis.
"Most of the persons …have been rehabilitated and have rejoined their communities," she says.
Ms. Lecky notes that CUMI is a part of the department's homelessness committee.
CUMI is supported through donations in cash and kind, as well as through its annual run/walk event, which had its 11th staging recently.
Captions