As Western Jamaica's murderous spree violently takes control of the national headlines once again, COVID-19 seems the least of the region's worries as over the past weekend, a total of 11 brazen murders were recorded across the parishes of St. James (5), Westmoreland (4), Hanover (1) and Trelawny (1), leaving the security forces scampering for leads.
ST. JAMES
A trail of death swept over St. James as five men were killed within a 24-hour span, claiming among the victims a 16-year-old youth, while two persons, including a 13 year-old boy, are now nursing gunshot wounds.
The victims are: 16-year-old student Omarion Campbell of Peace View, Albion, 26-year-old recording artiste Adrian Alexander, popularly called 'Fada Gad' of Mount Salem, 35-year-old Jermaine Brown, otherwise called 'Trevor', a painter of Fairfield district, Irwin; 41-year-old Bryan Coote, otherwise called 'Tadd' or 'Cootie', a farmer of Kensington district and 33-year-old Daryl Richards, Data Entry Clerk of Tank Lane, Salt Spring.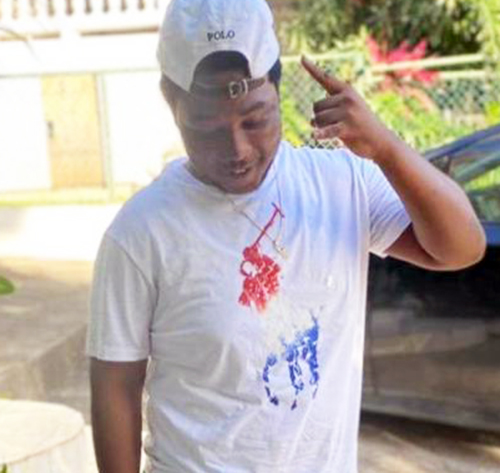 Homicide detectives who are probing the raft of killings reported that about 2:55 p.m. on Saturday, Campbell and a 13-year-old boy were at a café in Peace View making a purchase when a grey Nissan Tida, a white Mazda Demio and a Toyota Voxy drove up, from which men, armed with handguns and a rifle, alighted and opened fire hitting Campbell and the other teen, before fleeing the scene.
The police were summoned and upon arrival, the teens were seen with gunshot wounds to their upper bodies. They were taken to hospital where Campbell was pronounced dead and the 13-year-old admitted for treatment. His condition is considered serious but stable.
This attack is theorized to be reprisal for the killing of Adrian 'Fada Gad' Alexander a day earlier in the same area.
In that incident, which took place about 10:30 a.m., it is reported that Alexander and a music producer were at a recording studio in the Peace View area conducting business, when they decided to leave. Both men made their way to the roadway where they were waiting on other acquaintances.
While they were waiting, a silver Toyota Vicky, which was traveling behind the car in which their acquaintances were, passed them and made a turn close to Alexander, hitting and damaging a parked Silver Toyota Corolla motorcar.
The Toyota Vicky stopped and two men armed with guns alighted and opened fire at both men hitting them. Alexander, who reportedly received multiple shots, died on the spot, while the other man who was shot and wounded, was transported to hospital for treatment.
The shootings continued on Saturday about 8:05 p.m. when residents of Salt Spring reported hearing explosions and summoned the police. On the arrival of the police, Richards was seen lying motionless face down, barefooted, clad in a grey Joggers pants, grey merino, in a pool of blood in a yard suffering from multiple gunshot wounds to the torso and face. He was taken to hospital where he was pronounced dead.
Just a few minutes later, the lawmen were called to another homicide scene after it was reported that approximately 8:37 p.m., Brown went to visit a female companion when he heard an argument between her and a man. The argument escalated during which the man, said to be the woman's baby father, pulled a firearm.
Brown reportedly intervened, resulting in the man opening gunfire hitting him to the upper body before escaping in a Toyota Premio motor car.
Brown was rushed to hospital where he was pronounced dead.
WESTMORELAND
Murders dominated what was a bloody Saturday in Westmoreland where four men were killed and three persons shot and wounded in separate incidents across the parish.
The dead men have been identified as 28-year-old Devon Mosley, otherwise called 'Bandoo', of Groveland district; 28-year-old Arseno Summs, otherwise called 'Shabbe', a shopkeeper of Red Ground district, Negril, 59-year-old Winston Williams, otherwise called 'Slyback', of Kings Valley district, Grange Hill and 26-year-old motorcycle taxi operator, Camoy Dawkins of Little Haiti, White Hall.
Lawmen assigned to the Negril Police report that about 11:30 a.m., residents of Groveland district reported hearing explosions and alerted them to a trail of blood leading to bushes in the area. A search was conducted and Mosley was found with multiple gunshot wounds. He was taken to hospital where he was pronounced dead.
Just three-and-a-half hours later, the police were again summoned, this time at Red Ground after residents reported hearing gunshots. The lawmen, on arrival at the scene, saw three persons suffering from gunshot wounds. They were rushed to the Savanna-la-Mar Public General Hospital where Summs was pronounced dead and the other two persons admitted.
A four-hour respite and the police were again called into action at Grange Hill when at 7:30p.m., Williams and another man were standing outside a shop at Lincoln main road when men rode up on a motorcycle and opened gunfire hitting them. Williams was pronounced dead and the other man admitted.
The bloody day was brought to a halt at 11:30 p.m. at Little Haiti, Whitehall district, when the police were summoned to a scene where Dawkins was seen with several gunshot wounds. He was taken to the hospital where he was pronounced dead.
HANOVER (PASTOR BEHEADED)
Residents of New Town district, Sandy Bay in Hanover, are still reeling from the grisly murder of a Minister of Religion, whose headless body was discovered along a dirt track in the community minutes before 9 o'clock Monday morning.
He has been identified as 40-year-old Kennife Andre Reid, who resided in the neighbouring parish of Westmoreland.
Initial reports are that Reid was last seen on Sunday when he reportedly left the house of a church sister and went to clear a parcel of land for which he intended to construct a house.
However, when Reid failed to return home, the church sister reportedly became concerned and sought to make a missing person's report at the Sandy Bay Police Station.
She is said to have organized a search party on Monday and it was then that Reid's water bottle and machete were discovered. His headless body was subsequently discovered a short distance away.
Up to press time, Reid's head had not been found.
TRELAWNY
The Trelawny Police are investigating the shooting death of a man and the wounding of another at Wakefield in the parish.
The deceased has been identified as 19-year-old Dave Brown, otherwise called 'Tom Tom', of York Pasture district, Trelawny.
Reports are that about 4:30 p.m. on Friday, Brown and his brother were at an unfinished house owned by Brown when they were approached by three men armed with handguns.
The gunmen opened fire at Brown and his brother, who both ran in different directions
The gunmen chased Brown, following which several explosions were heard.
The police, who were in the area, rushed to the sceneand conducted a search, which proved futile.
However, about 5 p.m. Saturday, the police received information that the body of a male was seen lying on its side clad in a white merino, white underpants and blue jeans shorts with gunshot wounds to the upper body on a property in the Deeside community, which was later identified as that of Brown.