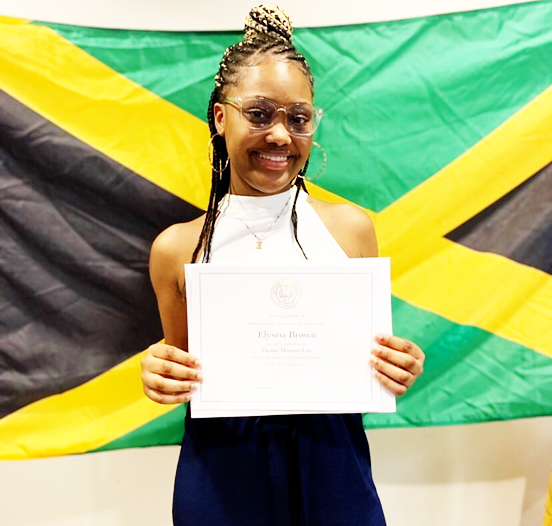 Rashaun Stewart
The tale of Jamaican excellence is old as the nation itself. Jamaicans in the diaspora have achieved stratospheric feats in numerous arenas, be it academia, sports, performing arts or otherwise. Twenty-year-old Elyseia Brown is a member of the diaspora who has distinguished herself not only on the local stage, but overseas as well.
Hailing from Bridge Water in Westmoreland, Brown is presently a student enrolled at the prestigious Monroe College in New York. She is an honors student, pursuing a major in Criminal Justice and a minor in Psychology. Her decision to pursue Criminal Justice and Psychology stems from her desire to represent the underserved. In addition, her zeal for understanding the human psyche and behaviour further impelled her desire to pursue these degree programmes. While her academic profile takes ultimate priority, she has a long-standing track record of participating avidly in co-curricular activities and leadership.
Brown's story began at Cambridge Primary School, where she sat the secondary placement exam – the Grade Six Achievement Test (GSAT) at the time – in the sixth grade and secured a place at Rusea's High School. She completed a five-year tenure at the Lucea-based secondary institution and thereafter moved to Montego Bay High School for a two-year stint in the Sixth Form programme offered there.
During her tenure at Rusea's High, she earned 10 subjects upon sitting the Caribbean Secondary Education Certificate (CSEC). She repeated this prodigious feat at Montego Bay High when she sat the Caribbean Advanced Proficiency Examinations (CAPE), earning 8 subjects for a combined total of 18 CSEC/CAPE subjects.
Brown attributes her academic milestones and her successes in other areas to her mother. "My mother is most responsible for the many successes that I have had. She has nurtured a kind a giving soul and has paved the way for me to receive a comfortable environment while pursuing my studies."
"She is my inspiration, the reason I give my all in everything I do. I want to repay her for motivating me and making me believe that I can achieve anything, and to let her know that her efforts were not in vain," Brown added.
At Monroe College, the Honors Programme has provided her with opportunities for networking and exposure on the international stage through interaction with individuals from all over the world. Her membership in various clubs has improved her public speaking skills and allowed her to become more knowledgeable on world issues, as well as American law.
"Being an Honors student has shown me that I am capable of such great things! It has allowed me to view different areas of the world (other than those exposed to me by my courses in my career field) where I can expand and be helpful to other people," Brown told the Western Mirror. "For example, though I am a Criminal Justice student, through the Honors Programme I have gotten the opportunity to work on projects surrounding Agriculture in Jamaica and be able to present them at conferences making more people aware of issues such as praedial larceny and ways how to prevent it."
MULTIFACETED PERSONA
Far more than a one-dimensional character, Brown is a multifaceted persona engaged in a diverse range of activities that extend beyond the academic sphere. She is a member of the Criminal Justice Club, Drama Club and International Students Committee at Monroe College, all while being a motivational speaker. While pursuing her secondary-level education in Jamaica, she was President of the Students' Council and President of the Spanish Club at Montego Bay High.
"I have always seen myself as a leader as I like to work with others in a healthy environment. I also love implementing projects to make the society I live in a better place. I also like to know that after leaving a conversation or a room of people, I have made their lives better or they are now consumed by thoughts to be a better version of themselves. This is why I get involved in leadership, to encourage/make a ripple effect of change for others."
Brown's interests also lie in the agricultural sector. This interest is owed to her Jamaican heritage, since there was an emphasis placed on agriculture and opportunities therein during her tenure at Rusea's High School. She aspires to provide an avenue for farmers in Jamaica to receive robust representation in gaining support and recompense for problems such as praedial larceny. To that end, she is open to representing farmers as a lawyer.
"I feel as though my alma mater Rusea's High has made a great impact on my love for agriculture and wanting to see more farmers win, rather than struggle," Brown commented. "I would like to implement a project where farmers would get help with supplies and strategies to secure their small-scale farms (and even large scale) in Jamaica. I would want to establish partnerships with international organizations who could help with the necessary resources [that] farmers would need so as to limit praedial larceny."
Brown's proudest achievement is being named a member of Monroe College's Honors Programme. She affirmed that it has inspired in her a greater level of drive and a fixity of purpose, in addition to providing a platform for voicing her views on societal issues.
Short-term, Brown aims to improve her proficiency in Spanish and to expand the scope of her motivational activities. Long-term, she entertains ambitions of becoming a Human Rights Lawyer and a Spanish translator. With her underlying passion for agriculture, she might also explore being an Agricultural Lawyer.
"If you have a dream, pursue it! Do not let your financial situation limit you; I didn't. Go after your goals; give it 120% or don't try at all," Brown concluded.