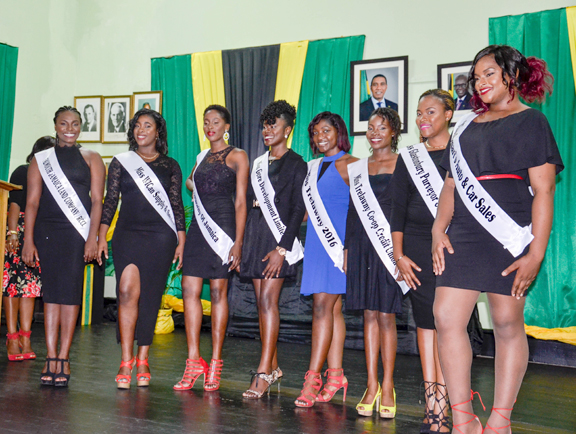 The journey towards crowning the 2017 Miss Jamaica Festival Queen heats up with parish level coronations, which will be held throughout the month of May. A signature programme of the Jamaica Cultural Development Commission (JCDC), an agency of the Ministry of Culture, Gender, Entertainment and Sport, the Miss Jamaica Festival Queen parish coronations will see intelligent, culturally-aware, poised and empowered women who are seeking a platform to make their contributions to nation building, compete to represent their parish at the national coronation in August.
Saturday, May 13 will see St. Elizabeth's coronation at the Alpart Sports Club in Nain, and Kingston and St. Andrew's coronation at The Louise Bennett Garden Theatre at the Ranny Williams Entertainment Centre, both beginning at 8: 00 pm. Sunday, May 14 will see Trelawny's coronation at the historic Falmouth Cruise Port and St. Ann's coronation at the Sandals Hotel, Ocho Rios, both also beginning at 8:00 pm.
Saturday, May 20 will see Portland and Hanover's coronation's at the Port Antonio High School in Port Antonio, and the Jockey Factory in Lucea respectively, both beginning at 8:00 pm. While Sunday, May 21 will see St. Catherine's coronation at the Eltham High School Auditorium, beginning at 7:00 pm.
Saturday, May 27 will be the Clarendon and Westmoreland coronations at the St. Gabriel Anglican Church Hall in May Pen and the Sean Lavery Faith Hall in Savanna-la-Mar respectively, both beginning at 8:00 pm. While Sunday, May 28 will see coronations in St. James at the Iberostar Hotel in Lilliput, beginning at 8:00 pm, and in Manchester at the Cecil Charlton Hall in Mandeville, beginning at 7:00 pm.
Tickets for the various coronations may be purchased at the relevant parish office, or at the gate of the event.